Pooch and Mutt discount codes
Don't miss your chance to activate extra savings. Enjoy additional price-cuts when you are ordering online with Pooch and Mutt discount codes and vouchers below.
Winter Sale: Enter this Pooch and Mutt discount code and activate 25% off on your entire order sitewide. Get your pooches favourites for LESS!
Save 20% on your first 3 subscription orders using this voucher code.
25% off 2kg & 10kg bags of Slim & Slender vet-recommended dry food.
25% off at Pooch & Mutt, including your first 3 subscription orders.
Save 20% site-wide using this voucher code.
Get your pooches favourite products delivered to your door for FREE on orders over £39.99. Change, pause or cancel whenever you like.
---
GOOD MOOD FOOD: We know that a healthy mind is just as important as a healthy body. But should that thinking be limited to humans? We've created an enhanced series of natural meals, treats and supplements that does good and tastes good, to give your pet the optimal ingredients needed to boost their mood and behaviour, paw in paw with their physical health. And by delivering our knowledge in the clearest way possible, we give you the peace of mind you need to better support them.
POOCH & MUTT IS A HEALTH FOOD COMPANY WHOSE PRODUCTS HAPPEN TO BE CONSUMED BY DOGS: Pooch & Mutt was founded in 2007 by Guy Blaskey. Guy's family dog, Cookie was diagnosed with hip dysplasia at 3 months old and told that she would need a hip replacement by the time she was 3. Cookie was treated with a natural joint supplement for horses made by Guy's mum's company, Blue Chip Feed.
The product worked amazingly (Cookie never needed the hip replacement and led a full, active life for another 11 years), so Guy decided that he had to reformulate it and repackage it for dogs, and so Pooch & Mutt was born. Guy wanted to get the benefits of natural supplements to more dogs, and when training for the London Marathon to raise money for Hearing Dogs, Guy became obsessed with nutrition and did a lot of running with his dog (and our company mascot) Pepper.
Working with some of the top nutritionists in the UK, Guy developed the Pooch & Mutt food range to not only cut out the junk of mass-produced pet foods, but to include positive nutrition such as supplements and nutraceuticals, to help dogs lead happy, healthy lives.
Our pets are members of our family and the most important thing we need to pay attention is their diets for their health. Using healthy and dietary pet foods minimizes the possibility of health problems of our animal friends. Pooch and Mutt is providing functional, grain-free foods for dogs at reasonable prices. Plus, you can activate additional price cuts with our Pooch and Mutt discount code and promo codes verified today.
How to Apply Pooch and Mutt Discount Code?
Click the green "REVEAL CODE" button and copy the code
Double check the offer by reading all the description
Go to the store's website which has been opened for you in another tab
Start shopping, add items to your basket and go to the checkout
Paste the code in the "Discount code" box before checkout, and hit "Apply" button
You simply saved money with Pooch and Mutt discount code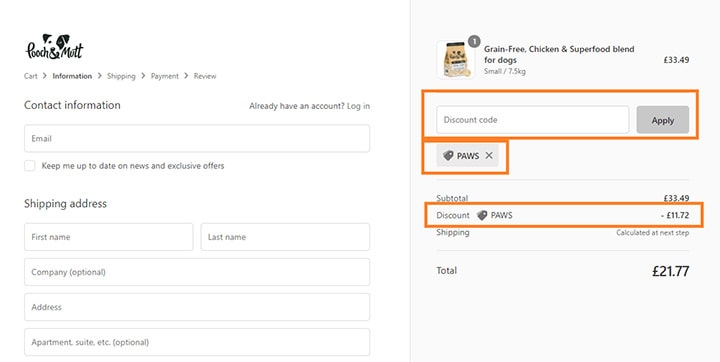 ---
Pooch and Mutt Feeding Guide
When feeding your dog with Pooch and Mutt foods, there is a recommended feeding guide to follow in accordance with nutritional values. See Pooch and Mutt feeding guide below and find out the recommended amounts.
| Age (Months) | Adult weight 5kg | Adult weight 10kg | Adult weight 15kg | Adult weight 20kg | Adult weight 25kg | Adult weight 30kg | |
| --- | --- | --- | --- | --- | --- | --- | --- |
| 1-3 | 50 g/day | 90 g/day | 120 g/day | 150 g/day | 155 g/day | 180 g/day | |
| 3-4 | 80 g/day | 130 g/day | 165 g/day | 195 g/day | 240 g/day | 260 g/day | |
| 4-6 | 80 g/day | 135 g/day | 185 g/day | 225 g/day | 270 g/day | 305 g/day | |
| 6-12 | 75 g/day | 130 g/day | 180 g/day | 225 g/day | 260 g/day | 310 g/day | |
| 12-18 | Adult | Adult | 170 g/day | 215 g/day | 250 g/day | 305 g/day | |
| 18-24 | Adult | Adult | Adult | Adult | Adult | Adult | |
Get Social with Pooch and Mutt
Pooch and Mutt Contact Information
---
Related articles
---
How was your experience on this page?
As Voucherix, we attach great importance to user experience. Please view other users' ratings or submit your review by using the form below.
5 out of 5 stars (based on 3 reviews)
---
Submit your review
---
"If we have no peace, it is because we have forgotten that we belong to each other."
― Mother Teresa