Why prefer homemade cat food? Choosing cat food is a job that requires a lot of detail. To take care of your cat's health, you spend a lot of time until you find the right food. However, you can make this easier and healthier by making your own cat food at home. Here are the 5 best homemade cat food recipes!
Cats are extremely cute and cheerful enough to bring happiness to their environment. With their naive appearance, lovable actions and deep love for their owners, they have created a place in many people's homes. Cats are creatures that need a highly sensitive diet. The reason for this is the naive structures and sensitive stomachs due to their creation.
When choosing or preparing cat food, cats will have the greatest say in this regard. The reason for this is that cats are more selective in nutrition compared to other pet friends. Cats have their own taste and nutritional habits. For this reason, they do not eat every food that their owners give. It can be said that the reason for this situation is the stubborn character structure of cats.
Also Read: 10 Homemade Cat Food Recipes
Homemade Cat Food: Healthy Recipes
It is necessary to be very careful in choosing cat food. Cats are among the species that have the most different characteristics and exhibit different behaviors among their own species. For this reason, it is necessary to be extremely careful when choosing cat food and, if necessary, scrutinize.
In the quarantine period we are in, it is called not to go out unless it is necessary for public health. For this reason, pet owners may want to make their own food for their pet friends. In addition to this situation, the choice of food is a situation that requires great detail and research not only for cat food but also for all pets. The health of ready-made foods and their contents are often a matter of debate. To bring a definitive solution to this situation, making cat food at home will be extremely healthy.
Let's take a look at the healthiest and most delicious homemade cat food recipes for our cat friends together!
---
Homemade cat food recipe with meat and spinach
INGREDIENTS
1 cup of rice
250 grams of spinach
500 grams of ground meat
DIRECTIONS
Mix raw or lightly baked minced meat with lightly boiled spinach. Make sure that the spinach is not boiled too much, otherwise all the nutritional properties of spinach will be lost. Then cook the rice with enough water to pass over it. Finally, put all your ingredients in the same container and blend them by mixing. After completing the process, let it cool in the refrigerator for a while.
Meat and spinach formula is one of the first recipes that come to mind when it comes to homemade cat food, as it is very nutritious and healthy, as well as easily prepared.
---
Homemade cat food recipe with tuna and liver
INGREDIENTS
100 grams of liver
1 canned tuna
2 spoons of fish flour
Half a bowl of rice
DIRECTIONS
First, boil the liver until it becomes a paste. Then boil the rice for a while without adding anything. Pass all the ingredients through the food processor with the tuna, which you filter the oil. Finally, make shapes from this mixture and leave it in the refrigerator for a while to cool.
Homemade cat food recipe with tuna and liver is an extremely nutritious and healthy recipe. This homemade cat food recipe that your cat will enjoy with pleasure is among the most popular food recipes.
---
Sardine homemade cat food recipe
INGREDIENTS
1 cup oatmeal
Half a pumpkin
1 can of sardines
DIRECTIONS
Add enough boiled water over the oatmeal you added to the pot. Then peel the zucchini and chop it in large pieces and boil it in a different pot. After crushing your boiled pumpkin, mix all the ingredients together and mix. After completing the process, put the mixture in the refrigerator for a while to cool.
Sardine homemade cat food recipe is an extremely practical and healthy cat food with both nutritious and easy preparation.
---
Homemade cat food recipe with chicken and carrot
INGREDIENTS
Carrot
Chicken
Brewer's Yeast
DIRECTIONS
The first detail you should pay attention to when starting the recipe for homemade cat food with chicken and carrots is to boil the chicken thoroughly. Chicken that is not boiled sufficiently can negatively affect your cat's health.
After boiling the chicken until cooked, boil the carrots in the same way and crush the carrots. After this process, bring all your ingredients together and add beer yeast on it. After completing all the processes, let your homemade cat food cool from the refrigerator to cool.
This homemade cat food recipe that cat friends will enjoy is one of the most popular homemade cat food recipes since it is both a healthy and practical recipe.
---
Homemade dry cat food recipe
INGREDIENTS
2 cups of rye flour
3 cups whole wheat flour
1 cup corn flour
1 cup of cracked wheat
1 cup skimmed milk powder
3 tablespoons of chopped parsley
600 grams of chicken breast
1 tablespoon fish oil
5 tablespoons of vegetable oil
DIRECTIONS
First, heat the oven at 180°. Meanwhile mix the flour, milk powder and parsley in a large and deep bowl. Then, boil the chicken breast and then pass it through the blender and make it puree. Transfer the mashed chicken breast to the bowl with flour and add water while mixing. The softness of the dough should get the consistency of the earlobe.
Give your dough a roll shape and cut it into small pieces. Then put the baking paper on your tray and place it on the oven. Bake for 30 minutes and do not open the oven door until the next day, leaving it at its temperature after cooking is complete. In this way, the foods you prepare will dry. If the food is still moist, you can keep it dry for a few hours and let it dry.
This recipe is an extremely simple and extremely healthy homemade cat food recipe. You can make this food, which your cat will consume with great appetite, in an extremely easy way.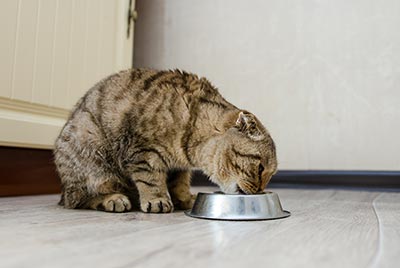 As the Voucherix team, in this article, we tried to give you as much information as possible about the homemade cat food recipes. We hope it was useful. You can also share the homemade cat food recipes you prepared for your cat friends with us in the comments section. Stay tuned for more!
---
Related articles
Related savings
"Cats choose us, we don't own them."
― Kristen Cast