Revolving rings are a stylish statement that adds an extra level of uniqueness to the traditional world of wedding rings.
Modern newlyweds are looking for extra special things that add a touch of magic to their celebrations. Kinetic rings are steadily becoming that magical thing, bringing joy and wonder to the most important day of your life!
As with all designs, kinetic ring jewellery isn't for everyone, but for those who dare to dive into the world of moving art, they're rewarded with incredible detail and distinctive style that will truly set them apart.
When Did Rotating Rings First Appear?
Simple revolving patterns in rings were introduced in the mid-20th century. Initially, these were simple wedding rings with one or two movable inserts.
The rotation was carried out on account of the kinetic force produced by humans during everyday wear. For more than 60 years on the market, kinetic rings have undergone many changes in design. Now they have become more detailed and comfortable to wear, with Sybarite Jewellery widely regarded as creating the world's finest examples of kinetic jewellery.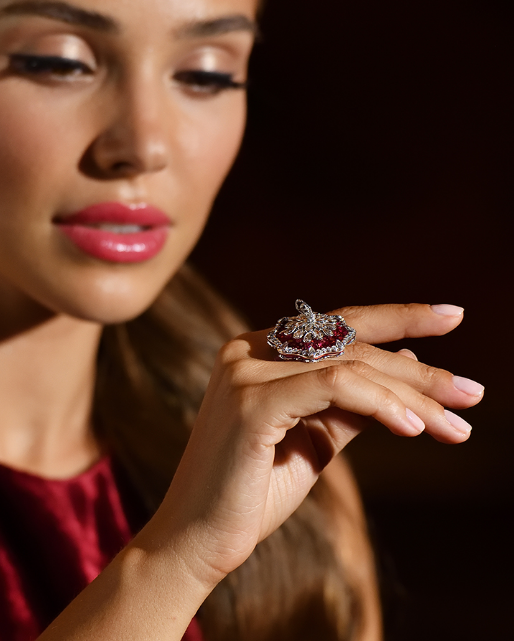 Peculiarities of Spinning Rings
Rings with inlays harmoniously combine in themselves an unusual, intriguing shape and the luxurious shine of gemstones. When crafting such kinetic jewellery, they are often made with white or yellow gold, ornately designed with precious stones such as diamonds, sapphires, rubies and emeralds.
The various products may contain from 1 to 4 moving parts, which spin with elegance and grace – it is very important that kinetic jewellery moves seamlessly and effortlessly with the wearer.
Of course, this is not the only available design for kinetic rings. As of recently, there has been a trend of displacing the spinning part to the top of the ring, creating miniature art sculptures on your hand. For example, Sybarite Jewellery creates beautiful dancing ballerina or carousel-themed rings.
Modern jewelers are not limited to one precious material or a certain gemstone insert. Enamel and wood can also be used to decorate the middle, on which you can apply a coat of arms, monogram, initials, or an important date. This will fill the wedding rings with even more symbolism and special meaning.
The sides of kinetic ring jewellery are predominantly decorated with patterns, ornaments, and various weaves. In addition to stones, love symbols, geometric, and other shapes can be used as original decor. For example, there are rings from midway in the form of a sphere, which spins.
The Symbolism
Whatever is the beautiful exterior design of the ring – there is always a hidden special meaning staying behind all the beauty. And each wedding ring has a unique story of a specific couple, a whole world of their feelings and emotions – running the whole gamut of emotions from adoration and perfection through to eccentricity and excitement.
For time immortal, rings have embodied an unbroken path (a never-ending line – a circle) showing strength and an eternal union (specifically in the case of wedding and engagement rings). The spinning parts in kinetic rings can be seen as a symbolic representation of the eternal life cycle and earthly motion propelling people forwards.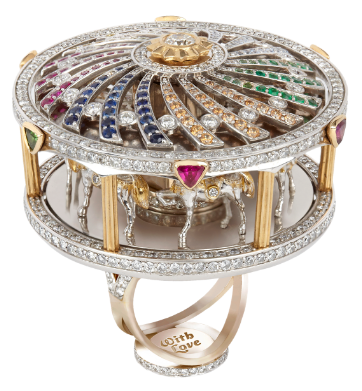 Benefits of Rings with Kinetic Parts
The vast range of kinetic ring jewellery encompasses a wide variety of shapes and designs and gathers a high demand from jewellery lovers. These accessories have three key points:
Versatility and Uniqueness – many ring options models are designed for both men and women, and there's little chance you'll ever see anyone else with such a quirky ring
Extraordinary designs, allowing the wearer to show their individuality.
The high level of technical detail inevitably impresses people around the wearer.
A Great Option for Soon-To-Be Husband and Wife
To sum up, kinetic ring jewellery's sheer beauty of craftsmanship and ring design are a perfect choice for you if you want something new and refreshing to wear each day.
---
Let's share!