Luminous Makeup: Follow these steps for luminous makeup that will instantly boost your glow!
When we say the right make-up, we all think of a bright and fresh skin as a rule, right? When we met "ourselves on the screen" during the pandemic period when online meetings entered our lives, we understood this even better! So how can a healthy skin look that looks like the glow of the skin from within? Here are the steps to follow for a luminous skin that reflects light. How to do luminous makeup?
---
Luminous Makeup Steps to Follow
Use a moisturizer that gives the skin a radiance
Replace your daily moisturizer with a moisturizer that instantly gives the skin a radiant and luminous look. Suitable for use on all skin types, Kiehl's Glow Formula Skin Hydrator provides a more even toned skin appearance, while brightening and energizing the skin with its formula containing pomegranate extracts and enriched with antioxidants. It is possible to achieve a healthy glowing skin with the "shimmer potion" containing minerals that increase the radiance of the skin.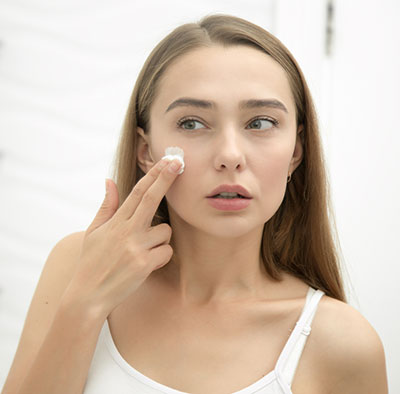 Bobbi Brown Extra Illuminating Moisture Balm, in a balm texture that provides more intense moisture, removes the dull and tired appearance on the skin with the pearl particles it contains, giving the skin instant radiance and provides skin healing benefits when used for a long time. How to do luminous makeup?
Blur imperfections with a makeup base
From pore appearance to fine lines, the easiest way to lighten imperfections on the skin, instantly revitalize tired skin and improve the permanence of your skin make-up is to apply a makeup base. You can achieve a smoother and brighter-looking skin surface by choosing a makeup base that diffuses light onto the skin. Guerlain Météorites Base helps to hide all imperfections, including blemishes, by creating a mirror effect on the skin with its "stardust" technology, which contains pearlescent particles such as diamond powder encapsulated in microspheres. How to do luminous makeup?
Nars Radiance Primer Broad Spectrum SPF30, which provides a pearly shine to dry, matte and pale skin, has the feature of increasing the microcirculation in the skin with the extract of Evodia plant in its content and showing the skin make-up more energetic and lively.
Choose a foundation that spreads the light through the skin
The structure of these new generation foundations with a luminous finish, which looks like the natural glow of the skin by creating a naked skin effect, is even thinner than BB creams! Filorga Flash-Nude Pro-Perfection Tinted Fluid, which can be determined by the person with its formula that can be applied in layers, has such a light texture that its absence is not obvious. How to do luminous makeup?
It offers a smooth, vivid, even-toned, luminous and natural skin appearance with its long-lasting effect, with micro pigments that dissolve in the skin, without preventing the skin from breathing. The product, which is ultra-light and liquid in texture, also cares for the skin with its hyaluronic acid and herbal active ingredients.
NYX Professional Makeup Born To Glow promises a bright, radiant and smooth skin make-up by offering the most suitable color for every skin tone with 45 different color options. While the permanent creamy liquid foundation for up to 12 hours equates the skin tone, it preserves the skin's moisture with its formula containing vitamin E and jojoba oil.
Brighten your eye area with concealer
Undoubtedly, the tiredness marks are covered and the brightened under eyes make the luminous makeup look more beautiful and flawless as a whole. Opt for a concealer that camouflages dark circles without filling the lines and adds light to the eye area. Yves Saint Laurent Beauty Touche Eclat High Cover Radiant Concealer, which is the version of the brand's iconic concealer with higher coverage, combines the bright finish with the perfect concealer. It brings a natural shine to the eye area with soft focus fillers and pigments that reflect light in a single direction. How to do luminous makeup?
Make Up For Ever Ultra HD Light Capturing Self-Setting Concealer, lasting up to 12 hours, gives freshness and radiance to the skin while covering the under eye with its zero accumulation feature. Thanks to the 4K complex of the brand's Ultra HD series, it creates a "second skin" effect around the eyes with an invisible, natural and moist finish. See more steps to follow for luminous makeup.
Add a few drops of liquid highlighter to your foundation
Make sure to take advantage of the power of liquid highlighters! You can apply them to the high points of your face such as cheekbones, nasal bones, or you can mix them with foundation, bb cream or colored moisturizer to achieve the desired intensity of glow on your entire face. See more steps to follow for luminous makeup.
Lancome Custom Glow Drops add a natural glow to the skin with its formula enriched with light-reflecting pigments. L'Oreal Paris Glow Mon Amour, containing coconut oil, gives the skin a natural and healthy glow from within. How to do luminous makeup?
Add freshness to your cheeks with cream blush
Creamy blushes reflect light better than powder blushes, providing a more radiant finish. Available in 11 colors, M.A.C Glow Play Blush gives the skin a radiant natural pinkness with its soft gel-cream texture and light formula. Its density can be increased with its formula that can be applied over and over.
Milk Makeup Lip Meat Cheek is a multi-use coloring stick for lips and cheeks. It moisturizes the skin and lips with mango, avocado and apricot oils, and creates a satin-like appearance by smoothing the skin surface with its easy-to-spread cream structure. How to do luminous makeup?
Don't forget to shine your eyelids
To make your eyes shine like a jewel, choose pearlescent reflections in champagne, sand and pale peach tones instead of dark shadows on your eyelids. For a radiant look, get help from the brightening face palettes in shimmering texture and apply a few colors by blending them. Focus on the natural look; Make sure that the colors you choose are not a dominant gold, pink or copper. With the latest liquid highlighter, you can make a small touch with the tip of your finger on the middle of your eyelid. With a brown pencil, it is enough to define your upper eyelashes slightly and to complete your mascara eye makeup.
Combining richly pigmented pink, bronze and champagne tones in a single palette, Dior Backstage Glow Face Palette is a candidate to be your secret weapon. Sephora Collection Gleaming Stones Face Palette adds a natural glow to the skin with warm-toned reflections of pure stones and pink minerals.
Fix your make-up with a light-reflecting transparent powder
Creamy products such as foundation play with the skin, so it is necessary to fix it with powder.
Fine-structured transparent powders, which increase the permanence of your make-up without creating a matte appearance, reflect the light on the skin and distribute it, are perfect for this. The Becca Hydra Mist Set & Refresh Powder, which refreshes the skin the moment it is applied, offers a radiant and velvety finish with its feather-like light structure. With its formula consisting of 50 percent water, it instantly refreshes the skin and adapts to every skin type and color.
Sisley Blur Expert Powder, which gives an ultra-bright appearance to all skin tones without whitening the skin, creates a smooth skin texture by distributing the light evenly and blurring the skin with its "high definition" make-up technology.
---
Let's share!