When we hear the term "fitness watch," I'm sure that most would immediately associate them with watches that are distinguished by their small and rectangular casing with vibrant stretched straps. Some might even say that they're not a true smartwatch since they have limited capability. However, the design of the Huawei Watch Fit is sort of heading in a different direction—it is beautifully crafted, which makes it an excellent wristwatch as well. Also, it has more functions and can do more than a typical fitness watch.
Additionally, the design of Huawei's Fitbit is aesthetically pleasing, that you can wear them for daily use as well. In today's review, I'll provide you a list of some of the advantages of the Huawei Watch Fit and then help you determine why they may be the ideal fitness tracker for your needs. So without further ado, let's begin…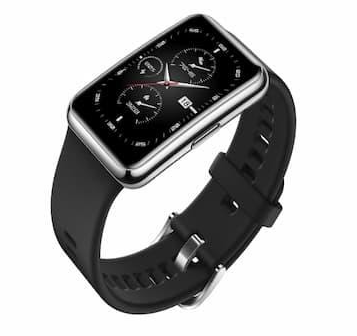 Huawei Fitbit: Design and Built-Quality
The design of the Huawei's Watch Fit is the blend of Fitbit Charge 4 and Apple Watch. Such style makes them easily distinguishable from other fitness watches. Aside from their apparent stunning looks, they also offer lots of value and functionality. For one thing, the watch is featured with a 5 ATM water-resistant. What this means is that the item is highly reliable against damage due to water exposure. In addition, such a feature makes the watch perfect for water activities or sports as well.
They are also available in six different colors, which include graphite black, mint green, cantaloupe orange, sakura pink, midnight black, and frosty white. If you're not sure about the variety, then you don't have to worry about it. This is because the straps are changeable, and you can replace them with any style that suits your preferences at the moment.
Huawei Fitbit: Operating System and Specifications
The Watch Fit is running with Huawei's Lite Operating System. If you have owned Huawei smartwatches before, then you'll definitely feel at home with the fitness watches' user interface. The interaction is very user-friendly, and it responds smoothly to a specific command. As for the hardware, it is equipped with a DK3.5+ST Chipset. It may not be as powerful as the Kirin A1 chip technology, but it is reliable nonetheless, and the wearer may not notice any difference at all.
Lastly, it supports the typical sensors you would find in a fitness watch like accelerometer, capacitive, heart rate, gyroscope, and ambient light.
Huawei Fitbit: Battery and Performance
The Huawei Fitbit is equipped with 180mAh battery capacity which can deliver power up to 10 days in a single charge. However, you have to keep in mind that each application varies in power consumption. It means that the 10-day period could be reached, assuming the wearer is only using it as a regular wristwatch. And battery life may go as low as 5 to 6 days if the wearer continuously using its more advanced features.
Huawei Fitbit: Price and Availability
The retail price of the Huawei will cost you £129.99 or about $180. Fortunately, the fitness watch is currently under promo, and you can buy them at only £74.99 or about $75! In addition, you can also avail yourself of the free delivery and freebies if you buy them today.
Since Huawei is a popular tech brand, I'm sure that you should find at least one outlet within your vicinity. But in any case, that there are no available stores near you, then you can always check Huawei's official online business webpage for more information about the product or a list of available promos.
Our Verdict
The Huawei Fitbit is ideal for anybody looking for an affordable fitness watch that is capable of doing more functionality than a typical item under the same category. And yes, they are not only budget-friendly but offer the best form factor and features in the fitness tracker gadget arena.
---