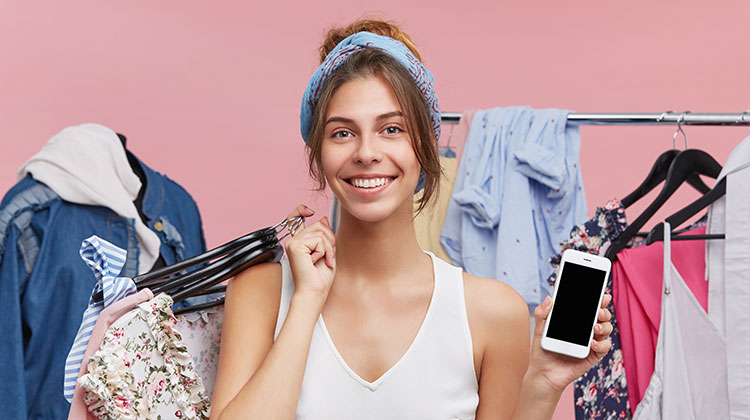 Top Tips for Buying Clothes Online
These days thanks to the magic of the internet, we can buy pretty much anything we want online. From food and books to furniture, music, and movies, it's all within easy reach at just the click of a button. However, there are some categories that are a bit more difficult to shop for online, and clothes is definitely one of them – almost everyone has had the experience of falling in love with an item on a website only to have it arrive and be filled with disappointment. So how do you avoid that happening? Here are our top tips.
Measure yourself carefully
Knowing what size to choose is probably the most challenging part of online clothes shopping. In a physical store, it's easy to just have a guess and take a couple of different sizes into the changing room with you, but unless you don't mind the hassle of returning items, that's not as viable for internet purchases. The best thing to do is to get hold of a tape measure and take accurate measurements of your hips, waist, chest, leg length, and so on. That way, you can make a much more informed choice between small and medium next time you're shopping for jeans or tweed wool gilets.
Check each store's size chart
Once you have your measurements in hand, you also want to make sure that you check the size chart for every store. Yes, every single one. Sizes such as 'medium' or '8' can mean surprisingly different measurements in different stores, so you'll be saving yourself hassle in the long run by looking up the specifics. It can also be helpful to scroll through the reviews and see if people mention that certain products tend to run big or small or anything else about sizing.
Don't rush your purchases
It's very easy to see one picture of an item of clothing on a gorgeous model and get caught up with the need to have it, but slow down! That top isn't going anywhere. Instead, scroll through some more images, ideally watch a video if the store has them, and read some reviews from people who have bought the item you're considering. Read about the material the clothes are made from, try to imagine when and where you'd wear them, and have a browse to see if there's anything you prefer the look of. A careful purchase is more likely to be a good one.
Know the refund and return policies
Before spending your hard-earned cash on some clothes that you're not entirely sure about, check the company's policies on returning and refunding items. Finding somewhere that does free returns is great because you can take more risks in terms of style or order multiple sizes of the same item so that one is bound to fit. Make sure you know how long you have to return items and try them on as soon as they arrive so that you don't miss that timeframe – although if you've followed the other pieces of advice here, hopefully, you won't need to send anything back!
---
Let's share!