Buying your new shoes online has many benefits. Not only can you save time by eliminating an unnecessary shopping trip, which often leads to extra spending, but you can also find deals and discounts when you shop online and get them delivered straight to your front door quickly and easily. This method has become more and more popular in recent years and for many, it's now the preferred choice when it comes to purchasing footwear. If you're planning on buying a new pair, you can enjoy fantastic savings with this great Footlocker discount code.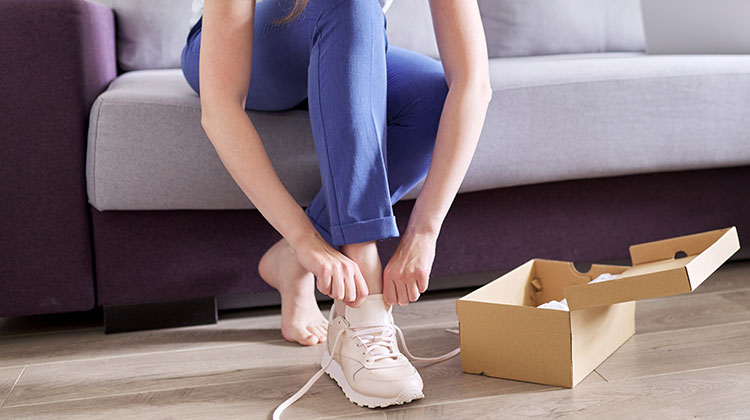 The catch is that it can sometimes be a bit difficult to make sure that you select the right size. We've put together a quick list of tips and tricks to help you out when choosing the right fit. This means you can avoid the hassle of returns and refunds or exchanges on your footwear purchases, and start enjoying them straight away!
Depending on which online store you buy from, most of them have a size chart that you can refer to for sizing. This can usually be found at the bottom of the website, within the FAQ section but also once you select and view a particular pair.
When viewing a product at the Footlocker online store, for example, you can read the product details and the size guide, which displays the available shoe sizes in UK, US, and EU conversions. They also provide a centimeter conversion if you want to double-check you're picking the correct size for you.
Most footwear retailers are aware that customers may have doubts when it comes to selecting the correct measure so they are committed to providing the best possible shopping experience and often offer a special guarantee, to give you peace of mind that if you're not happy with your order you can return them free of charge. This can be reassuring if you have a particular type of foot, such as narrow, wider, or a need for larger or smaller than average shoes.
Different retailers have different types of size charts, including very detailed guides for clothing as well as footwear. Many of these claim to be "true to size" so if you don't usually need to pick different sizes for different types of shoe or footwear from certain brands then you can't go wrong. You can find detailed information, available in both cm and inches, and even a step-by-step guide to measuring your feet to make you get the best fit. Reading the customer reviews can also help you to understand if the true-to-size promise is genuine from a particular retailer.
Finally, most brands do not usually change their sizing schemes, so for example, if you already own a pair of shoes from a certain brand or manufacturer, you can rely on the fact that going for the same size that you already have, or have had in the past, is a safe choice.
It's not a myth that most people have one foot slightly bigger or smaller than the other. Without going into detail about anything to do with the size of men's feet having an impact on other areas, for women, it's often the case that depending on the type of shoe you want to get, one size or half a size up or down can make a difference. Think about sneakers or trainers that you wear with socks, as opposed to flats or pumps often worn without socks or with stockings or tights.
Selecting the right size for kids can be a challenge. Check out this helpful guide available on the NHS website. You can also find information about orthotic options if you have a specific foot complaint, by consulting the NHS website.
---