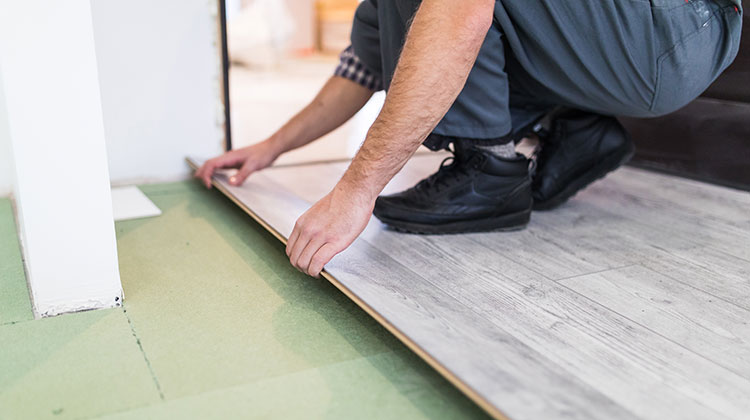 Hygiene is of the highest priority today amidst the pandemic. An absence of hygiene becomes the first window for the virus to set in. Just like you use face masks to steer clear of the virus, you should also concentrate on keeping the parts of your house clean. Unbeknownst to several people, surfaces host different kinds of viruses and bacteria.
Flooring is a space that never goes untouched. In fact, there is so much floor abuse from spills, germs, foot traffic, dust, food, pet dander, and so on that it is impossible to narrow down the pollutant. Thus, floors need your attention. The good news is that you can clean your floor without any hassle. While the traditional and typical dusting, vacuuming and mopping are always helpful, there are some unknown tricks that you can incorporate into your routine to clean your floor. Here are a few of them.
1. Tile flooring
Tile floors are commonly installed and found in almost every second house. Consequently, the cleaning guide for the same is not easily seen due to the sheer variety of the installed floors. Nowadays there are a range of germ-free tiles that will give you an added advantage of hygiene and eliminate any chances of germ infestation. However, you can also concoct a homemade cleaning solution by mixing the agents in equal parts and spattering it on the floor before mopping it away.
What do you add to the cleaning solution? The answer: Quarter cup vinegar, dishwasher soap, and the same amount of water. If you want, you can also use equal parts of hydrogen peroxide and water as the cleaning disinfectant. Just mix them well and transfer them to a spray bottle.
If even that sounds inconvenient, simply use hot water while cleaning the tile surface. This also protects the surface by eliminating all kinds of bacteria and germs, dirt and grease, etc.
2. Vinyl flooring
An increasing number of homeowners is opting for vinyl flooring. One of the main reasons for this phenomenon is the flooring's durability, as these floors easily last above 10-20 years. They are an excellent choice for heavy foot traffic rooms, making them suitable for kitchens or living rooms. However, unlike vinyl floor tile, they are not damage-proof. As they are stuck using an adhesive, they are more prone to peeling, scratches and cracking.
Nevertheless, the cleaning method for vinyl flooring remains the same. You can simply use mild disinfectants that do not sleep in too much lest you destroy the structural integrity of the flooring. Vinegar, water and mild detergent soap, all in equal parts, are enough for daily cleaning.
If you want to deep clean the floor, you can steam the floors before mopping for intensified cleaning. Make sure that this is done occasionally and not daily.
3. Marble flooring
For the admirers of the finish and the look of marbles, the polished glazed vitrified tile range for your Kitchen or bathroom, these PGVT tiles will help you create a durable and aesthetically appealing space. As they are already grazed, their finish is super glossy. This glossy finish is crucial for the homeowners look in marble flooring.
Maintaining a marble flooring, though, is an entirely different ballgame. For instance, take your kitchen countertop. It is much easier to clean and maintain the countertop if it's appropriately sealed after installation, ensuring that it is free of bacteria. Warm water, and a piece of cloth, is all you need to clean the countertop of any spills and dirt. Avoid using harsh cleaners like acids or bleach, as they damage the sealants and degrade the surface.
4. Hardwood flooring
If you are looking to add a rustic and countryside vibe to your abode, hardwood flooring can bode well to your taste. The floors are either untreated or come with a wax finish, making their upkeep quite similar to that of laminate flooring. Dust mopping, sweeping and vacuuming – these consist of the usual shebang for such flooring.
However, suppose your flooring, having sealed wood finishes, has a coating of polyurethane, urethane, and polyacrylic. In that case, you must follow two cleaning procedures. First, mix a bucket full of water with a few drops of pH-neutral cleanser to dampen the mop and clean the floors. Post that, you can use white vinegar and dishwasher soap to mop clean the surface. The floor can then finally be patted dry using a microfiber cloth.
5. Linoleum flooring
Linoleum comprises several materials like linseed oil, resin, limestone, cork dust, wood fibre and mineral pigments. This combination provides excellent strength and makes linoleum flooring rank among the most durable. Moreover, while its constituent materials' list is long, its cleaning list is not. You simply need warm water and mild soap and mop them on the surface after getting them to form lather. If there is soap residue, simply clean it with a microfibre and let it 'air dry' before starting the movement on the floor.
6. Wooden flooring
Wooden floors create an earthy and warm feel in the house. However, besides having aesthetic value and significant durability, such floors also require you to keep a maintenance book by your side. Unless your wood has been treated with polyurethane, never use a wet mop or even consider washing your floors with water. They should be kept dry, and even the smallest of spills should promptly be wiped off. Depending on the type of wooden flooring, you can follow these cleaning tips.
Laminate floorings: These can be cleaned using a vacuum cleaner or a flipper mop to remove dust. For a liquid stain, a lightly dampened cloth is sufficient.
Engineered wood floorings: The same method can be applied as used on any other flooring, as cleaning them does not require much-added effort. While a vacuum cleaner or flipper mop is sufficient, ensure no sharp edges as they can potentially damage the flooring.
7. Natural stone flooring
And the last for the different one! Unlike most of the floorings mentioned above, natural stone flooring does not work well with vinegar. Thus, don't forget to leave the vinegar in your kitchen pantry and keep it far from your floor cleaning solution. In fact, even a minuscule amount of a slightly acidic solution can erode the natural stone flooring. It becomes even more crucial that you mop the sealed stone floors with a pH-neutral and non-chelating cleaner, which won't react adversely to the minerals in natural surfaces. Some relaxation is there for the unsealed stone tiles, which allow the mopping of the floor by simply a slightly damp microfiber cloth.
We'd like to tell you to start your new year on a clean and hygienic note and follow the cleaning manual for these seven most popular types of flooring. These steps successfully guarantee the maintenance and longevity of the tiles, which, in turn, contributes to the wellness of you and your family. In such times of the pandemic, the cleaner your surroundings are, the safer you are!
Author Bio
Isha Tandon has worked within the architecture and interior design industry as a flooring consultant expert – specializing in tiles, stones, and terrazzo. She has worked with Orientbell Limited, a leading tile manufacturer in India, as a product development manager in the design team and has recently joined the marketing team as their digital content expert. Her experience comes in handy in understanding the audience as she creates value-driven functional & informational content for the readers. She creates lifestyle pieces that focus on interior design products, trends, and processes. She loves to travel to historic places with rich architecture.
---