Are you downsizing to a smaller home? Is your home running out of space? Is your business looking for inventory storage space? If your answer to any of these questions is yes, the best solution for you is "opt for a self-storage facility".
Before considering the alternatives, you need to check which renting space may work better for you. When choosing self-storage services, these are the essential factors that you need to consider for a practical decision.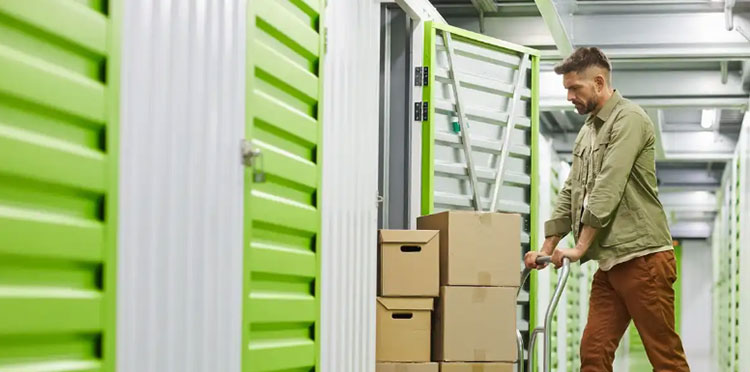 Decide on the type of self-storage
When deciding on the popular options, know that each storage space serves different needs. There are three types of self-storage;
Storage warehouse
These are the expensive options that fit the businesses for stock storage.
Container
These are cheaper options than storage warehouses and are easily available in different sizes.
Lock-ups
These are temperature-controlled options if you want to store valuables. If your concern is with food and wine, then this is a convenient option to consider.
How much self-storage space do you need?
Knowing how much self-storage space you need is one important thing you must consider first. List down everything you want to store and measure the boxes in terms of the width and height you'll be storing. Then, look for the best space fit. This way, you can avoid paying for unnecessary space.
How much does self-storage cost?
Being the biggest factor in shopping for a self-storage facility, cost plays an important role in making a decision. From £10/week to £100/week, these are the factors taking hold of the prices;
Location
The storage unit will cost high if it is near the residential area or the centre of the city. For this reason, city areas charge higher than rural or outskirt areas. A 150 square feet space on the outskirts can be rented for the same price as a 50 square feet space in the city.
Size
What if you can't store everything you wanted to? In contrast, what if you end up with extra unused space and you've paid for it? Price ranges are fixed based on per square foot. Try to get a container that fits your requirements so you don't end up paying for the space you didn't need.
Duration
How much you pay for the unit is also affected by the length of your stay. Some service providers offer you long-term discounts for keeping the boxes for a longer time. Being a new customer, you can also get new customer discount offers. Businesses also do this to build relationships with customers and keep them from shifting their choice elsewhere.
Insurance value
Unexpected situations and unintentional damage to your storage unit can cost storage businesses thousands of pounds. You may have to face the risk of losing all of your expensive belongings. For this reason, most companies require insurance for your valuables storage.
Prioritize security
Whether your valuables hold sentimental importance or financial value, protection should be the priority. You should consider the security and safety of the units while picking a self-storage facility. Make sure the storage facility you choose has the necessary security features like security doors, CCTV placed throughout the whole site, and enough illumination.
Packing your valuables
Folding and rolling don't work here. To avoid any damage case, you need to pack your valuables properly. To make the most value for your money, you'll also want to handle space as effectively as you can. Services like storage units in liverpool provide their packaging materials to make sure your belongings are safe. If you're considering your materials and packing the valuables yourself, keep these things in mind;
Clean your belongings properly. Your valuables can catch mildew and pests. Make sure you arrange everything beforehand.
To reduce efforts, arrange the packing materials in advance including strong boxes, cushioning materials, and packing tape.
Disassemble the items where possible.
Bubble wrap the fragile items to avoid cracks and other damages. It is suggested to give a double layer for extra security.
Before packing, list down all the items.
It is crucial to mark your boxes and pack them according to the category.
This way, you'll be ready to stack your valuables effectively and efficiently.
Moving your valuables to self-storage
Wrapped everything by following the above-mentioned steps? Now, it's time to shift your boxes to the self-storage unit. You'll want to take every measure possible to preserve the quality of your possessions during this phase while making the most of the available space in your apartment.
Most companies like Prime self storage offer their shifting services but if you're doing it on your own, make sure to get the correct-sized vehicle. When reached the destination, unload the van carefully. Consider these two principles when storing the boxes;
Fragility-based stacking
To prevent breakage and box collisions, stack the boxes based on fragility. Start with the heavier boxes and then move upward as the boxes become lighter. Avoid placing fragile items in inconvenient settings, and put bulky or priceless goods in places where you can quickly grasp them.
Accessibility-based stacking
Accessibility is an important factor to consider here. Place the boxes with the walls and make a route for you to quickly grab whatever and whenever you need. Make the important items accessible as easily as possible to avoid any inconvenience afterwards.
Ask for assistance
It's not always the simplest chore to gather up your belongings and move them to the storeroom on your own. Asking for help throughout the storage process may be an excellent idea, whether you're managing valuables, bulky objects, or simply a sheer truckload of possessions.
Don't be hesitant to ask for assistance; failing to do so might result in shattered objects or unintended injuries.
Consider reading reviews of the different companies
The online reviews will help you decide which self-storage service is worth spending money on. Read other people's opinions, comments, and reviews from the different reviewing platforms so that you can end up making a transparent and effective decision for your storage needs. If the weightage of negative reviews is more than positive reviews, consider another alternative.
Take note of the above-mentioned factors when considering the alternatives as it can save you pounds! Make a list of your requirements and then see if the available options match your list or not. Then, end the decision-making process with the most effective one.
---