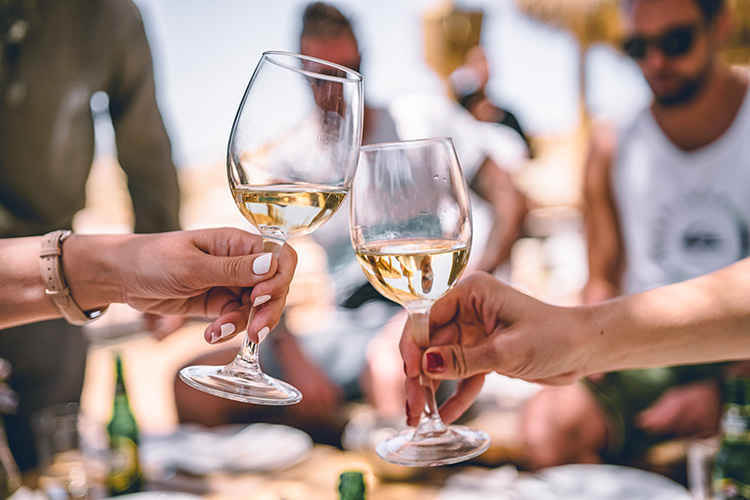 Few things go together as perfectly as summer and wine. What can be better than sipping a cool glass of white during an al fresco lunch, or a glass of red during a late summer evening meal?
However, with so many wines out there, sometimes it can be hard to know where to begin. Your best bet is to leave things up to the experts and get some recommendations from people who know their stuff. We've listed X fantastic wines that you simply have to try in summer 2023. Check them out below.
Pavillon Rouge 2020
The second wine from the Medoc vineyard on the historic Chateau Margaux estate, Pavillon Rouge 2020 is a classic, savoury red characterised by fresh floral aromas and a rich, full-bodied palate. The wine is made from a blend of Cabernet Sauvignon, Merlot, Petit Verdot, and Cabernet Franc.
This deep, complex red would be the perfect pairing for a dinner where beef or venison are being served. Click here to read more about the incredible Pavillon Rouge 2020 and buy some for your next dinner party to wow your friends and family.
Graci Etna Bianco 2020
Made from grapes grown in the volcanic soils of Mount Etna, this Sicilian white has all the hallmarks of a perfect summer wine. Complex mineral and acidic undertones are overlaid by bursts of honey, green apple, and lemon, with a smoke that runs through the wine as a homage to the smouldering crater of its origin.
Graci Etna Bianco is the perfect accompaniment to seafood, rice, or smoked dishes. If you're planning a summer BBQ, make sure this wonderful white is on your shopping list.
Rainstorm Pinot Noir Rose 2021
After the 2017 vintage won the silver medal at the Los Angeles International Wine Competition, the Rainstorm Pinot Noir Rose has become a summer staple. With the 2021 vintage, you can expect a crisp and dry wine with aromas of watermelon and cherry. The body is medium and pleasant and is offset by an acidic tinge.
The Rainstorm Pinot Noir Rose 2021 will pair particularly well with meaty or oily fish such as mackerel, monkfish, salmon, or tuna.
Moncaro Verdicchio dei Castelli di Jesi 2021
If you're looking for something more affordable, the Moncaro Verdicchio dei Castelli di Jesi 2021 could be the perfect option. A classic dry Italian white, this wine is made from the Verdicchio grape variety, which is famed for making wines that are light, airy, and easy to drink, perfect for a summer afternoon basking in the sun.
If you're looking for a food pairing, try matching the Moncaro Verdicchio dei Castelli di Jesi 2021 with grilled white fish for a fantastic combination.
Conclusion
Summer is nearly upon us. Before you know it, you'll be basking in the sun and socialising on those wonderful late summer evenings. Ensure you are prepared ahead of time by having a wine list ready to go, that way you won't be caught short at a last-minute BBQ or evening dinner party.
---