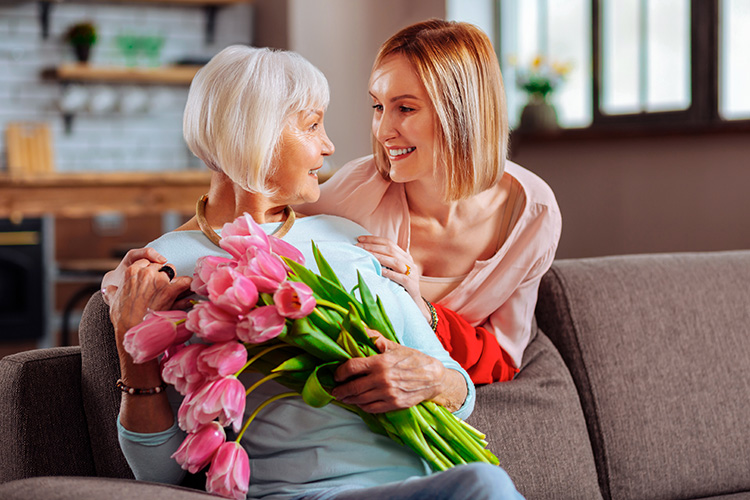 The most irritating yet satisfying part of mothers is that they do not demand their needs. For instance, if you see the new brides, they will want everything on stage and perfect for their one-day ceremony. They focus on their preparation and want everything to be perfect. They also sometimes get obsessed with the day that they feel terror about any mistake that may happen. 
In contrast to this form of celebration, you may not connect with Mother's Day. Well, this might not be like a once-in-a-lifetime day, but it comes every year. Still, if you compare the emotions and cravings for these special days, you will understand that mothers have fewer expectations or don't show them.
Well, this can be their nature in general or simply how they are more mature than us. However, this does not justify our celebration process, or should it not affect us in any way.
In fact, if you want to make just one day memorable for your mother, then you should target Mother's Day. Every year we wait for Christmas or other festivals, but if you think deeply and sink into your Mother's emotions, you may understand that they also want something special for all their sacrifices and love.
Plan For Making Mother's Day Memorable
You might want to plan something special for your mother this Mother's Day. Well, you might be in a dilemma with Mother's Day planning. Due to the lack of ideas, planning for Mother's Day can be hectic for you.
Well, who is bothered about planning for our mother as we all get too casual with our mothers? But this should not be the case for Mother's Day, but we should plan something special this year.
Well, don't worry! If you want to plan something special this year for your mother, then you are at the right place on time. Mother's Day is knocking at the door, and now it's time to plan and surprise your mother in an efficient way possible.
Who Will You Celebrate?
While you are going to plan for Mother's Day, it is very crucial to understand the fact of who you are going to celebrate this year.
Well, with this, you might fall into confusion. However, there is no need to get confused with the words but try to read between the lines. In your life, there are many women who you might want to thank for your journey to date.
Behind all the sacrifices and successes, it might not be just one woman who lets you see the face of this world.
It can be one of your neighbours who took care of you while your mother was out at work during the day.
It can be your caretaker who took good care of you and also spent some crucial time of your life during the early days of your life.
It can be the person who took care of you while you were abroad and rejuvenated your life as a paying guest.
In some cases, you might also want to thank your friend's mother, who loved you like her own child.
So, there is no necessity that the person you want to celebrate should necessarily be your own mother on Mother's Day, but it can be any woman who you want to thank. This is not just about your own mother but the women who have shown some motherly approaches to help you grow in your life.
Yes, your mother might be your top priority, but she might not be the one you can plan for multiple persons.
So, it's all about acknowledging the special woman with special efforts in your life. In fact, sisters, daughters, and daughters-in-law may also come under your list.
Brainstorming Ways Of Celebration
From the early discussion, one thing is clear: it's not about the person, but it's about how you feel about the person. Their importance in your life and acknowledgment accordingly can create a different significance this year on Mother's Day.
Well, if you have already decided who you want to celebrate with, now it's time for planning. Going according to the plan only can help you to celebrate your life as it is.
However, the ways of celebration can be different as it is not a wedding ceremony. You can plan many things in many ways. Well, the celebration largely depends on the things that your loved one wants to celebrate.
You need to remember the fact that it's not about you but your mother. So, it's all about her choices and preferences, not yours. This is where you need to be aware of the facts and facets related to choosing the celebration ways.
Here we have suggested some of the prominent ways of celebration. Well, you can customise these ideas based on your understanding of the person.
Send Cards
Sending cards can be an amazing and simple way to celebrate the day with ease. There is no need for prior planning for this process as you always know what your mother likes and how you are going to tell her something from your heart.
However, small planning or thinking is needed here while you go for the tailored process. Most people go for readymade cards, but those might not include your own words.
So, it's better to go for the hand care cards that you can create on your own, or you can also take some youtube ideas. These simple steps with planning may create a big impact on your mother.
Buy A Gift
Buying a gift is always a better resolution to Mother's Day. When you want to possess the intention to give something to your mother, make sure that they like your gift.
Well, these are the situations where you are likely to understand things about your mother. If you know her well, you can gift her well. Gift her a necklace, sling bag, or even a dress that can make her smile this year.
Go To Brunch
Going to brunch with your mother can be surprising for her. Well, it is the late breakfast outside the house, which can be a fantastic beginning for the day for your mother.
Well, you can take a day off for the day and let your mother understand how much you love her. This is not just about the day but your bond with your mother is inevitable and always.
However, if you want to make that bond significant, you need to show some effort, and a brunch outside can be a nice idea with your mother.
Send Flowers
Flowers are the significance of the life cycle and a fresh start. There is no one who does not like flowers, and thus a Mother's Day celebration without flowers might not be significant.
Well, flower delivery for mothers day is now possible at any place you want with the emergence of technology. This is not new in the market but can be an available solution to your Mother's Day planning.
For instance, you can book the flower to deliver at the cafe where you have decided to brunch, or it can be the museum your mother visited with you that day.
Go Shopping Or Antiquing
Go shopping with your mother!
We can understand that after a certain age, it becomes unusual for sons and daughters to go shopping with their mothers. However, this is where you can impress her with your unusual moves.
Apart from that, antiquing can be a great activity with your mother. If your mother has a fantasy about antique furniture or products, gift day is coming. Yes, it can be expensive, but not more than the smile on your mother's face.
Visit A Museum With Your Mother
Visiting a museum can be a direct and prominent solution to Mother's Day. Ask your mother to visit your nearest museum on the day and plan for tickets in advance so that she does not face any inconvenience.
Your mother will like this idea for sure. However, people have different choices, and you are the one to decide this time.
Serve Breakfast In Bed
Do you want to go for a simple idea?
Well, doing the job for your mother, which they have been doing for years for you, can be a great option to go for. Well, this might also be fun if you do not know how to serve or make proper breakfasts.
However, it is not about the quality of your breakfast but the activity that you will do for your mother. This can be an emotional and happy moment in her life.
Post Photos In Funny Messages On Her Page
Let's say you want to show that your mother is important to you. Well, this is possible with other steps that we have already mentioned, but to create a memento of it, you can take the help of the modern digital world.
There is nothing wrong with using Facebook or Instagram as a medium for Mother's Day celebrations. In fact, it is a great way to post photos of your mother with you and write some words that matter to both of you.
Well, it is not only about showing people how much you love them, but it is also about creating a memento of you and your mother that you both can see and smile ten years later.
Go For A Detailed To-Do List
Well, after seeing the list of things that you can do for your mother this year, it's time to plan accordingly. Your first instance will be to choose the things that you think may impact your mother the most.
However, it is not about the things that people are doing for their mothers. If your neighbour is giving a car to her mother this year, that does not mean that they love their mother more than you do.
It's better to be practical and genuine with the feelings that you share with your mother.
For instance, gifting her a necklace or a simple card may mean the same to her. It's all about the love you provide her, and it's all about showing her importance in your life.
This one day cannot change anything significant, but things will remain the same as it was always. So, you better focus on your to-do list in a reasonable way.
Execute The Things
After you have created a to-do list, ensure that you have invested enough time to execute the things.
This is not just about planning but without actions; there is nothing to generate. So, try to create plans in advance and ensure that you are getting enough time to execute the thighs.
For instance, if you are willing to prepare a special dish for her on Mother's Day morning, you need to invest time in learning cooking and also try it twice before you prepare it on that particular day.
However, this might not be about cooking a perfect dish for her, but if you can, what's wrong with it?
If she gets a perfect and delicious breakfast out of surprise from her child, there can be nothing more exciting and fulfilling for her.
Remember To Go Only In Meaningful Ways
Going only in meaningful ways is always a visible solution to our life, and this also works for Mother's Day.
We have always mentioned that it does not matter how expensive things you are planning for your mother, but it is all about how well you prepared a plan for the day.
Sometimes we dream of things that we cannot give her and end up giving nothing to her on that day out of frustration. This should not be your choice, but you can go for simple and reasonable planning this year.
Plan for the things that you can do and prepare yourself well for them. Remove the things that are out of your hands and rather prepare two or three backup plans if something goes wrong.
This is all about a day, and proper planning with better execution only can help you incorporate the deal.
---