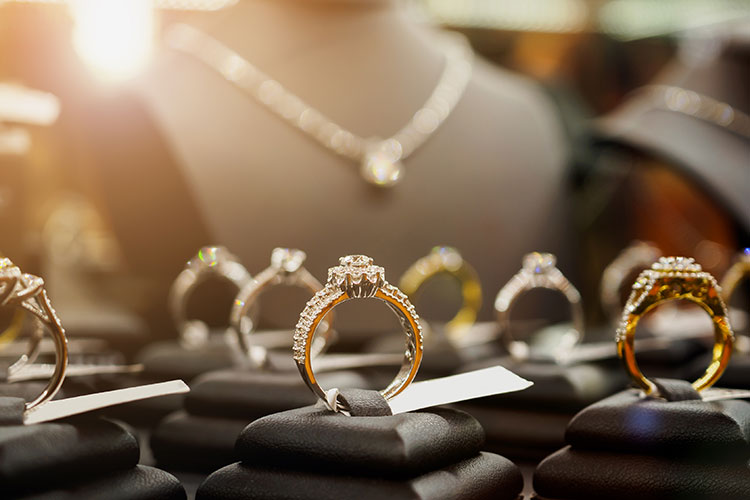 Who are EverWith?
EverWith Memorial Jewellery is a company with a passion for keeping its customers linked to their loved ones, even when they have sadly passed on. To this end, EverWith offers a beautiful range of jewellery for people who wish to keep a small part of their loved ones with them by sealing a small amount of hair or ashes into the glassy resin that is featured in the heart of most of their products.
The desire behind EverWith's jewellery is to bring comfort and a sense of peace to their clients. Some customers cry tears of happiness upon receiving their unique item, while others take comfort in being able to have a physical object that reminds them of their departed loved one.
EverWith opened in early 2019 and has gone from strength to strength, with a growing product range and a large team of craftspeople who work respectfully with the ashes of the lost loves.
What products do EverWith offer?
The core of the EverWith range lies in their range of rings for men and women. There are 58 designs in the women's ring selection, with a choice of 12 colours for the resin and 4 materials for the rings themselves. The men's options offer the same material choices and colours, with 10 different designs.
The rings offer options for a range of sensibilities, with designs that will suit younger customers as well as subtle, sophisticated looks for those seeking a subtle ring. Of particular note are the Ladies Oceans Memorial ring, which features a band of suspended ashes between two rows of brilliant crystals. The Unisex Remembrance ring is also a highly popular ring, with two areas of resin with a larger crystal in the centre.
All the ring designs are offered in 9k white, rose, or yellow gold or Sterling Silver. The sterling silver is plated with Rhodium to prevent tarnishing over time.
In addition to the EverWith Rings, they offer lockets and pendants, bracelets, cufflinks, bracelet charms, earrings and more.
The EverWith Glass lockets allow you to choose elements to place within them, each of which could contain the ashes of a different loved one. While the service is primarily geared towards memorialising human loved ones, you can also send pet ashes to EverWith. For pet owners in particular, who may own several animals, the glass lockets cater to adding in additional elements as the years take their toll. They work in a similar manner to a charm bracelet, for which EverWith can also supply you with elements.
How are orders placed with EverWith?
The ordering process is surprisingly simple.
Step 1: Place your order on the EverWith website, or request an order pack for free. You can also call them and place your order over the phone. If ordering online or over the phone, you pay at the end of the ordering process. For customers requesting an order pack, you will receive instructions on how to send payment.
Step 2: For online orders, you will receive an ashes collection pack in the post. If you requested an order pack, this would also come to you simultaneously with the order form.
Step 3: Return your forms and send the requested ashes to the EverWith office. Once received, they will commence creating your jewellery. For your peace of mind, EverWith sends you confirmation of receipt of the ashes, as they know how important these are to all their customers.
Step 4: You will receive a confirmation when the jewellery is ready. The jewellery and any unused ashes are then returned to you by next working day courier, and you are provided with tracking information. For your peace of mind, a signature is required, and the parcel will not be simply left in a 'safe place.'
Step 5: Receive your beautiful and emotionally significant jewellery, carefully gift-wrapped. Each product EverWith dispatches comes with a warranty certificate and care instructions.
Why choose EverWith?
While you can choose to pick and purchase everything you need online with EverWith, they offer a small friendly team who can discuss your needs in a sensitive and caring way. They fully understand how personal and precious this personalised jewellery will be to any recipient. With this in mind, EverWith is with you every step of the way to ensure that your order is unique, personal, and precisely as you imagined.
EverWith's reviews speak for themselves. On Trustpilot, they score an impressive 4.9 out of five, with 98% of users rating them great or excellent, with a stunning 2221 reviews at the time of writing. Over on Reviews.io the results are even more astounding. EverWith is recommended by 98% of customers, with 99% stating they received on-time delivery, and 100% of 4673 reviewing customers stating that their orders were correct and delivered undamaged.
Customer Service can make or break a company. In EverWith's case, they score 4.96 out of 5 at review.io. This isn't just impressive, it is indicative of a company that cares for its clients and goes above and beyond to ensure they are satisfied.
We hope that reading this has helped you put your trust in EverWith during your time of grieving, and we hope that you will be able to take great comfort with an EverWith ring, bracelet, or whatever you choose.
---