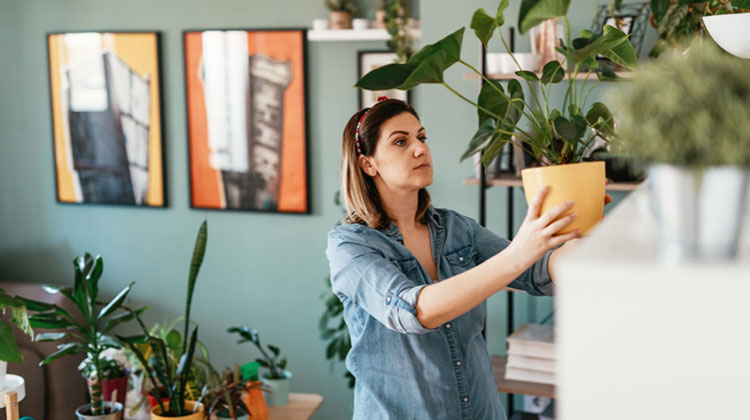 Nowadays, it is too easy to lose yourself in the world of online interior design inspiration. So many of us enjoy spending hours scrolling through images of beautiful walls and bespoke furniture pieces – dreaming about how we can improve our homes. But, unfortunately, many of us forget about how our design choices may be clashing with sustainability values.
Since not all products are created the same, some are more environmentally friendly than others. With the climate change crisis in full swing, it is more important than ever to ensure our lifestyle choices are aligned with sustainable values – and this includes your home too.
Fortunately, being eco-conscious does not mean style has to be thrown out the wind. It is possible to make your house look the way you want while caring and making the planet a better place to live. Here are six simple tips to aid in making your next decorating project more sustainable:
Grow Indoor Plants
House plants are a fantastic way to give a room a new look while supporting the environment. With the help of a few pots, indoor plants can be a design phenomenon. From lush ferns to bright succulents, they can add a natural vibe to any home.
It is important not to buy plastic pots and chemical-based fertilisers that can be often found with them. Instead, fill your home with air-purifying plants. They will thrive from the sun that shines from the nearest window and banish airborne toxins while improving the look of your home.
Buy From Local Artists and Craftspeople
You are inadvertently supporting the shipping industry as tempting as it can be to buy home décor from large online retail shops. Unfortunately, the shipping industry consumes millions of barrels of fuel every year and emits enormous amounts of carbon dioxide into the air.
Instead, discover the local artists and craftspeople you have around the corner from your home. Independent suppliers that work within your community can create unique pieces for your home. This way, you will be supporting your local community while lowering your consumer carbon footprint.
Check The Fabric Labels
If you are looking to cosy up a room with hardwood or tile flowing, try to buy sustainable rugs that have been made with eco-friendly materials. There are now plenty of rugs that are made from seagrass and even recycled plastics. They come in some beautiful design that allows you to create the space you have envisioned without microplastics.
The same rule applies to any soft furnishing you want in your home – from cushions, throws to other upholstery items you have in your home. Sustainable fabric options have hugely improved over the years, and some of the most luxurious things are made using eco-friendly materials, so check the labels and buy green.
You can simply start from your bedroom where you spend an average of 8 hours a day. Eco-friendly bamboo products for your bedroom sets can be your first step towards a sustainable home life. Ecoy has quality and eco-friendly bamboo bedding products which you may want to take a look.
Update Your Lighting Options
It is true that lighting can make a massive difference to a space. It affects the mood and general feel of a room, so when redesigning your décor, put lighting near the top of your priorities. Many people update their lighting options by installing dimmer switches for fixtures.
Dimmers are perfect for rooms where you may want to regulate the lighting output and change it to a more relaxed space in the evenings. A dimmer switch is also great for reducing energy bills. Using less electricity also reduces energy waste for electric companies.
Use Reclaimed Wood
From upgrading an old cabinet to changing your flooring, try to stick to reclaimed wood. It is a recycled material and does not cause additional damage to the environment like buying new wood.
Reclaimed wood also works really well if you are going for a more rustic look or wanting to put up some floating shelves in an office or bedroom. If the wood looks a bit on the worn side and you prefer a modern style, you can always paint it in a high gloss to give it your personal touch.
Buy Second Hand
Not everyone might be a fan of buying second-hand shoes, but upcycled homeware is a must for creating a sustainable space. It is one of the best methods to unleash your creative flair. For example, if you want to buy new dining room chairs, check out the free ads and see if anyone is getting rid of some old wooden chairs. You could sand them down and paint them in vibrant colours, which will boost energy into the room.
If you live near some charity shops, check out what treasures they may have in them. There could be the perfect vase for your window seal or a little side table you could decoupage in recycled paper for the guest bedroom. There is nothing better than buying sustainably while supporting a charitable cause at the same time.
The Takeaway
It is worth making a plan before throwing yourself into a home decoration project. Setting budgets and having a list of what you want to change will make it easier to source sustainable décor. Putting the environment into consideration when making purchasing decisions is not hard and can go a long way in helping the planet. If everyone made smarter choices when shopping, the overall carbon emissions could be drastically reduced.
We should also be doing what we can for our local communities, and shopping locally is a great way to do so. When shopping local and supporting independent artists, you are not improving your sustainable lifestyle but also keeping their businesses going. So next time you want to redesign your home, think about the environment and do it sustainably.
---