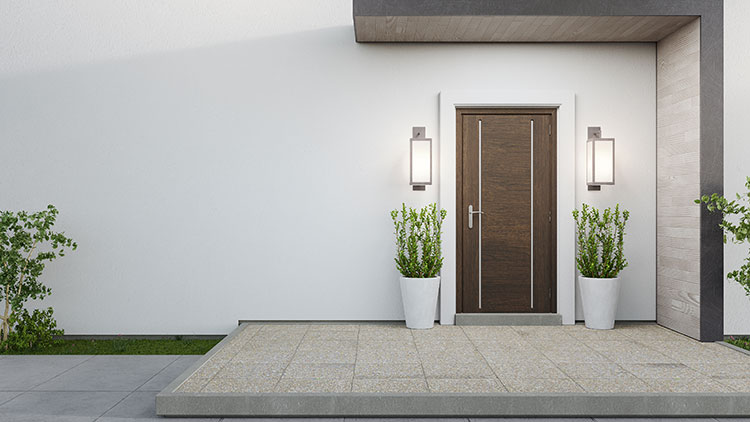 When you have visitors, you want to make sure that your home leaves a good impression on them, especially if you are a house-proud individual. While making sure that your home is tidy before your guests arrive, there are other improvements you can make to create a beautiful, dramatic entrance into your living space. If you would like to leave a stylish impression on your guests, here are some tips on how you can upgrade your home's entryway to achieve this effect.
1. Replace Your Front Door
If your front door has seen better days, it could be the perfect time for an upgrade. Not only will this help your home look smarter, but it could also improve overall security and insulation, too. Make sure that your door does match your property's window frames, as mismatched colours and textures will appear odd and clash. You can choose a more vibrant colour for your door if you wish, but do be mindful of how it fits with the rest of the exterior's aesthetics for the best results. Stained glass panes in your door or to the side in the frame can look beautiful, and will certainly achieve a more dramatic effect. If this isn't to your taste, frosted glass can also look lovely and provide you with some additional privacy.
2. Use Potted Plants
If you have the space to do this by your front door, placing potted plants on either side can vastly improve the appearance of your home's entrance. You will need to make sure that you maintain these plants to keep them looking their best, but roses, bay trees, or grassy plants can all have a stylish look when placed in large, decorative planters. You could even consider doing this inside your home instead if this is easier, although some more delicate plants in pots on a console table in a hallway might work better, depending on the size of your interior space.
3. Get a Door Canopy
Not every home has the space for a porch, but it is still nice to have a sheltered area in case of bad weather; after all, you don't want your guests to have to wait in the rain for you to answer the door! If you don't have a porch attached to your property or the space or budget to build one, then having a canopy installed above your front door could be the ideal solution. Canopies are more cost effective than a porch, but they can also help to improve the overall appearance of your property's main entry and boost kerb appeal.
4. Exterior Lights
Having exterior lights for your property can be great for security and general safety purposes. It is important to have the walkway and entrance to your home illuminated at night, but if you don't want to have harsh lighting like a typical security light around your front door, think about softer options that will look pleasant. For example, have some solar-powered lamps lining the walkway to your front door, or sconces illuminating your entryway on either side of the door frame.
If you want to make an impression on your guests as they walk up to your front door, consider the suggestions above and see how they can transform this part of your home, making it appear more inviting and stylish.
---