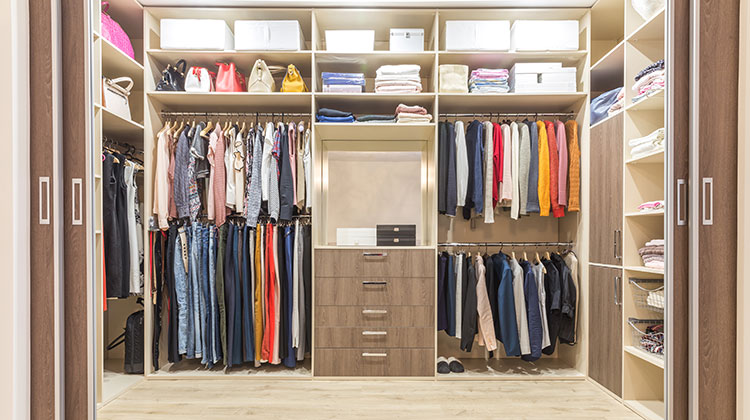 Most owners refuse a dressing room, considering its arrangement to be an excess. But the presence in the layout of a couple of square meters for storing clothes and shoes allows you to abandon unnecessary cabinets and chests of drawers, freeing up the living space as much as possible.
The optimal solution is to use the space of a pantry, a closet or even a loggia for a dressing room, i.e. a separate, albeit small-sized room. The main thing is that it occupies more than 2 square meters of area. If the apartment does not provide for any of the above, you can equip the storage system in a room – a bedroom or a living room, separating part of the usable space. The main thing is that the dressing room fits into the atmosphere of the apartment and does not violate its style.
How to choose a design of a dressing room?
The shape of the dressing room can be linear, angular, U-shaped or parallel.
The linear design is classic. The dressing room in this case takes up space along the wall, resembling a closet. You can hide the storage system behind a plasterboard wall, as well as doors – "coupe" or so-called accordions – the entire width of the room. A not so difficult option from the point of view of implementation is to install a decorative screen. Sometimes the contents of the dressing room are deliberately left open.
If one of the corners is free in the room, the dressing room design can be L-shaped. The corner element of the system is characterized by increased capacity. It is not very convenient to store essentials there, because. it will be hard to follow them. But the corner will become the place of "residence" of suitcases, bags, "spare" bedding. Many housewives specifically set aside this part of the dressing room for a vacuum cleaner or ironing board.
The U-shaped design will occupy a rectangular, spacious room (or, for example, part of the bedroom opposite the bed). A parallel dressing room will fit into an elongated space: a walk-through room or a hallway.
Dressing room layout
To use the storage system was really convenient, and things were always in their places, you need to correctly plan its internal content. Usually the dressing room is divided into four functional areas.
1. Area for outerwear. It is a bar or a retractable bracket on which hangers with jackets, coats, and fur coats will hang. Separation depth – at least 50 cm, ideally – 60, because outerwear (especially men's) can be heavy and massive. The width of the compartment depends on the completeness of your wardrobe.
2. Zone for casual wear. This is a bar or bracket (compartment depth 40-50 cm), as well as shelves for storage when folded. For light things, you can provide a pantograph – a modern kind of bar, which is suspended almost to the ceiling itself, and, if necessary, lowered with one movement of the hand using the provided mechanism. To store small items, it is worth equipping the dressing room with drawers or metal baskets on roller guides. And hangers and hooks on the side walls allow you to hang ties, belts and scarves.
3. The area for shoes is a few shelves located at a slight slope, as well as a place to store boxes. Special tucks-hooks will keep the tops of high boots in shape.
4. Changing area. This is a mirror (in spacious wardrobes – floor, in compact ones – an ordinary wall) and a small bench or bean bag chairs.
Some more tips;
Ventilation must be provided in any dressing room. Air circulation must be constant, otherwise the accumulation of unpleasant odors cannot be avoided.
Be sure to think about lighting. The main source as such may not exist. The best option is spotlights on the ceiling and additional LEDs mounted on the dressing room structural elements.
Between two rows of wardrobe shelving (U-shaped or parallel) there must be at least 60 cm of passage. And if the system provides for drawers, feel free to add another 50 cm.
Mounting methods and materials
According to the installation principle, all wardrobe systems can be divided into panel and frame.
Panel wardrobes are classic systems made of cut to size MDF, chipboard, veneer or wood. They are a combination of rods, shelves and other elements and are similar in content to wardrobes.
Frame wardrobes are systems that are held on spacers between the ceiling and the floor or attached to the wall. Several such vertical partitions form racks, where internal filling modules are hung in random order using the provided grooves and fasteners: baskets, shelves, brackets and hangers. Most often, frame wardrobes are made of metal, less often – plastic. Storage systems of this type have a lot of advantages. This is a low price, and ease of installation, and ease of use, and the ability to change the content over time. The only drawback is the industrial style of construction, which is not suitable for all interiors.
We hope our recommendations will help you design a dressing room that you will use with pleasure!
---