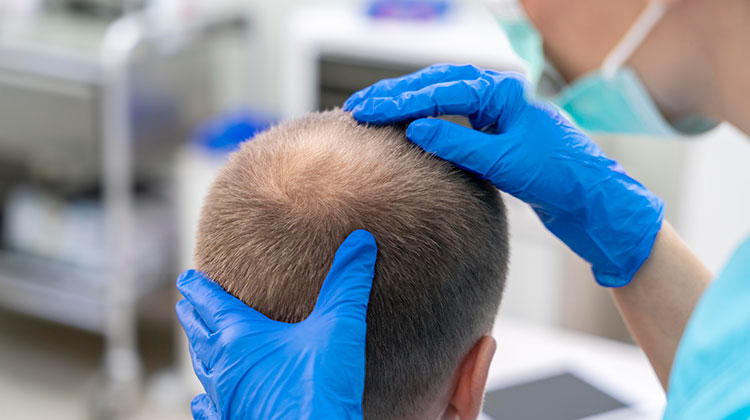 While traditional or manual FUE hair transplants are undoubtedly more common, both are outdated when compared to modern procedures like robotic FUE. Modern FUE is currently the best form of hair replacement for men and women due to its superior precision and most natural-looking results.
The pros and cons of FUT(Follicular unit transplantation)
FUT hair transplants, more commonly called the strip method, is a procedure in which your physician removes a thin strip of graft containing skin from the back of your scalp. The individual follicular units are then removed from the strip and re-inserted into the balding/thinning area. You should not worry about any pain from the procedure due to the local anaesthetic. However, the procedure will leave a scar on the back of your head.
Some of the benefits of FUT hair restoration:
FUT is the cheapest method of hair transplant surgery.
FUT allows for larger areas of baldness to be covered with few sessions.
FUT Has a low resection rate, yielding better results.
FUT has a 95-98% success rate
Unlike FUE, your physician will not need to shave your hair down for this procedure for FUT.
Some of the challenges of FUT hair plugs:
FUT wastes hair grafts due to a lack of accuracy.
FUT leaves a permanent strip-shaped scar on the back of the head.
FUT has a longer recovery rate per session compared to FUE.
FUT Can result in the stretching of the scalp
The pros and cons of FUE(Follicular unit extraction)
A Manual FUE hair transplant is a procedure in which the physician makes tiny cuts at the targeted area and then implants individual grafts taken from the back of the scalp via microscopic circular incisions. You are likely to have lots of small scars; however, they will typically no longer become visible after months of healing due to the randomness of how the hair follicles are removed. This procedure usually takes a day but will not require you to stay overnight.
Some of the benefits of FUE:
FUE is less wasteful than FUT.
FUE is more appropriate when treating more extensive areas of alopecia.
FUE does not leave permanent scars
Some of the challenges of FUE:
FUE relies on your physician's hand-eye coordination as they do the entire procedure with a handheld device, often resulting in a flawed transplant.
FUE is typically more expensive than FUT due to the increased skill required.
Are Hair Transplants Risky?
The most common hairline transplant risks apply to all surgical procedures. These would be infections or an allergic reaction to the anaesthesia. Luckily, all qualified London-based doctors and physicians will do everything possible to minimise the chance of any reaction or infection.
After my Hair restoration surgery, when can I get PRP(Platelet-rich plasma)?
You can schedule a PRP session after only ten days post-surgery. However, we recommend you have multiple procedures throughout your recovery to maximise your results; this may be one, four, or even six months after your hair transplant surgery.
Conclusion
In conclusion, Though more expensive, FUE is typically more suitable for most patients. However, the actual benefits of FUE can only be realised when using modern robotic technology, as it can match all of FUE's benefits without having any of the drawdowns.
---