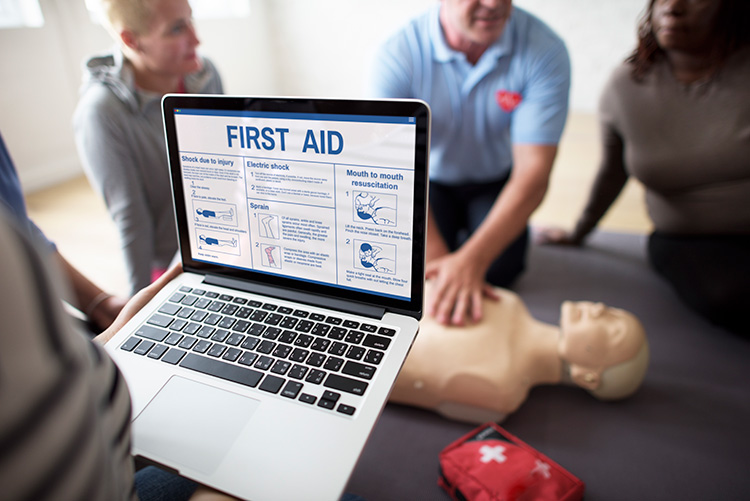 Accidents in the workplace are a normal occurrence and can occur at any time irrespective of the place. These accidents can either be minor injuries or major injuries, such as tripping over an obstacle to falling from a height. No matter how strong the health and safety policies are in your workplace, accidents might still occur, but one thing you as an employer can do in this regard is to reduce the frequency of these accidents, meaning reducing the amount of times accidents occur at your workplace. So, adequate first aid equipment at your workplace in an emergency or sudden illness is necessary.
According to a research by the International Labour Organization (ILO), world wide, approximately 2.78 million fatal accidents occur in workplaces each year, emphasizing the critical importance of prioritizing health and safety measures, including proper first aid training and compliance.
This fact emphasizes that accidents in the workplace can be a huge concern, and therefore we have certain regulations surrounding the provision of first aid in the workplace, also known as Health and Safety First Aid Regulations 1981. These regulations aim to provide appropriate workplace first aid, as quick and accessible first aid can help save life and prevent medical situations from worsening.
You are probably aware that under the Health and Safety First Aid Regulations 1981, every employer has a legal obligation to provide adequate workplace first-aid coverage. But what exactly does this mean, and how is it accomplished? In this article, we will cover this subject in depth and teach you everything you need to know about first aid.
Understanding the Health and Safety First Aid Regulations 1981
The Health and Safety First Aid Regulations 1981 outline the responsibilities of employers and employees regarding first aid in the workplace. These regulations cover various aspects, including adequate first-aid facilities, equipment, and trained personnel. By complying with these regulations, employers can ensure a safe and secure working environment for their staff.
Providing immediate medical assistance to an injured individual is known as first aid. The goal is to save lives, keep the casualty's condition from worsening, and encourage recovery. The nature of the injury largely determines the level of immediate care. Minor injuries like tiny cuts are easily treated using first aid supplies such as antiseptic wipes and plasters. Additional serious injuries, such as fractures, will necessitate additional attention and precise action to prevent the injury from worsening and to alleviate the injured person's pain or discomfort.
Compliance with First Aid Regulations
To adhere to the Health and Safety First Aid Regulations 1981, assessing the first aid needs specific to your workplace is crucial. This assessment involves identifying potential risks and hazards, considering the number of employees, and evaluating the nature of the work being carried out. You can determine the first aid provisions required for your organization by conducting a thorough assessment.
First aid risk assessment
Under the Health and Safety First Aid Regulations 1981, you are legally obligated to offer readily available first aid equipment as an employer. However, you must also provide appropriate facilities where your employees may obtain first aid and qualified personnel to administer treatment.
What you need to offer is determined by a number of circumstances; therefore, conducting a risk assessment will assist you in determining what is required.
Employers must consider the following criteria when assessing the first aid standards in the health and safety first aid regulations:
Work nature
Number of employees
Workforce nature
Size of the business
Work location
Work patterns
History of accidents
Lone workers
Availability and accessibility of emergency services
Availability of trained personnel
Assessing the risk
An assessment must take into account any special needs your employees may have, such as impairments or medical conditions. This will assist you in determining whether specific materials for your first aid kits are required and the procedures that must be followed.
Analyzing prior accident statistics for multi-site firms will help you evaluate the type of first aid equipment you require and where it should be put.
Remember employees who travel for work, work off-site periodically, or even work from home.
Portable first aid kits may be useful for travelling staff. While many house workers will have basic first aid supplies in their bathroom cabinets, it's a good idea to double-check.
Arrangements can be reproduced at each site for multi-site organizations. Ensure that there is always enough coverage. Requirements may fluctuate depending on the time of day, week, or year, for as, during unsociable hours or during holiday seasons, when the number of staff may be reduced.
When assessing risk, you must consider the accessibility and availability of emergency services. Knowing how emergency responders will enter the workplace, whether there are any potential access issues and travel lengths can make a significant difference in the case of an emergency.
Training and Certification
There are various types of first aid at work training available, ranging from basic courses to advanced certifications. These programs cover essential topics such as CPR (cardiopulmonary resuscitation), wound management, and responding to life-threatening situations. It is crucial to choose recognized certification bodies for your training needs.
Reviewing and Updating First Aid Procedures
First aid procedures should be regularly reviewed and updated to align with current legislation and industry best practices. Engaging employees in the review process can help gather valuable insights and ensure that procedures are relevant and effective. By incorporating employee feedback, you can improve your organisation's overall readiness and response capability.
Ensuring First Aid Preparedness
Beyond training and procedures, creating an emergency response plan tailored to your workplace is essential. This plan should include clear instructions on handling different emergencies, contact information for emergency services, and evacuation procedures if necessary. Educating employees about first aid procedures and regularly conducting drills and simulations will help foster a culture of preparedness and increase confidence in responding to emergencies.
Dealing with Common Workplace Emergencies
Workplaces may encounter various emergencies, including slips, trips, falls, burns, and potentially life-threatening situations. First aid at work training equips employees with the skills to handle these emergencies promptly and appropriately. By providing comprehensive training, employers empower their workforce to respond effectively, potentially saving lives and minimizing the impact of accidents.
The Role of First Aid Kits
First aid kits are fundamental to any workplace's first aid provisions. These kits should be appropriately stocked and easily accessible to employees. Basic first aid kits typically include bandages, sterile dressings, adhesive tape, antiseptic wipes, and disposable gloves. Regularly checking and replenishing supplies ensure the kits are always ready for emergencies.
Record Keeping and Reporting
Accurate record-keeping is crucial for compliance with the Health and Safety First Aid Regulations 1981. Employers should maintain records of first aid assessments, training provided, incidents, and near-misses. These records demonstrate compliance and serve as a valuable resource for monitoring and improving workplace safety. Reporting incidents and near-misses promptly helps identify potential hazards and implement preventive measures effectively.
Summary
In order to effectively control risks in the workplace and ensure compliance with the Health and Safety First Aid Regulations 1981, proactive measures must be taken. This includes implementing robust health and safety training courses to equip employees with the necessary skills and knowledge to identify and mitigate potential hazards. By prioritizing risk management and investing in comprehensive training, organizations can create a safer working environment and reduce the likelihood of accidents or emergencies. Being diligent in controlling risks protects employees' well-being and demonstrates a commitment to adhering to the vital guidelines outlined in the Health and Safety First Aid Regulations 1981.
---