The classic card game of poker has evolved over many centuries and across many continents.
During this time it has spread across many different societies – and along the way many different cultures and communities have developed different ways of playing the game.
That means that today poker comes in many alternative forms and versions. From Chinese poker to poker Omaha, each type of the game has different rules and features that appeal to some players somewhere.
Thanks to the rise of global internet casinos, there are even new types of poker emerging today to fit the new online audience.
If you are only familiar with just one way of playing poker when using your skills, it's fun to try some of the different forms of the game. They all have plenty in common – and plenty of changes to keep you on your toes too.
Of course all these different forms of poker show how enduring and popular the game is. The sheer range of types demonstrates that many different societies have made their own stamp on the classic game.
We've consulted poker experts to find a definitive selection of some of the most popular variations of poker:
Texas Hold'em
Probably the world's most popular form of poker is a favourite at both real casinos and online sites too.
Players get two cards face down, then five 'community cards' are dealt face up in the middle of the table.
All players make their five-card hands combining their cards and the community cards.
Omaha
This popular variant involves players being dealt four 'hole' cards not two. Again they use a mix of two of their cards and three community cards to make the best possible hand.
Seven-card stud
This version is often featured in classic western films. Seven cards are dealt to each player, three are face down, four face up. The task is to make the best five-card hand from all of them.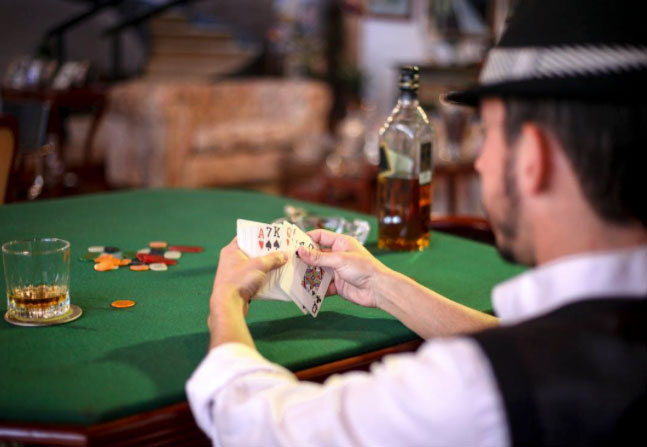 Other Variations
Razz: This is a rogue variety of seven-card stud, where the object is to make the lowest possible scoring hand.
Five-card draw: You will be dealt five cards face down. Then you can discard and replace up to three of them – to make the strongest five-card hand possible.
Pineapple: a variety of the Texas Hold'Em game where players get three hole cards instead of two. They can then discard one of their cards.
Badugi: the aim of this low-ball game is to create the lowest scoring hand of four cards – with one from each suit.
Short-deck Poker: sometimes called 'six-plus hold'em', this game involves using a special shortened deck with cards only ranked six or higher. It's similar to Texas Hold'em but with less cards in play a flush beats a full house.
Courchevel: like the Omaha variant but the first community card is dealt face up – this adds an extra strategic element to the game.
Double-flop Hold'em: two sets of the community flop cards are dealt, giving players the chance to build a hand with two cards from their own cards and three from the community flops.
Chinese Poker: one of the more complex forms of poker, this has players being dealt 13 cards each. They must then arrange them into three different hands.
This will comprise two five-card hands and a three-card hand. And there's no making wagers – players get points for the strength of their hands.
2-7 Triple Draw: this lowball variety involves players given five cards then having three chances to draw new cards. The aim is to make the lowest scoring hand.
Irish poker: this is like a mix of Hold'Em and Omaha. Players get four hole cards, then must discard two after the flop is dealt.
H.O.R.S.E.: concentrate, because this is a challenge even for the professionals who use it to train with. The game rotates through hands of five different forms of poker – Hold'Em, Omaha, Razz, Seven-card Stud and Eight or Better). Players have to switch their skills, style and strategies quickly with each consecutive hand. It's a variety that never gets boring, that's for sure.
Believe it or not there are lots more types of poker out there. IN fact, there are so many that we don't have room to mention them all.
The versions we've picked however are the most popular in casinos, online and across the world. Each has its own rules and tactics… and its own expert players of course. Poker has clearly been shaped by its time with different online communities all over the world. Throughout its long history it has developed the ingredients to make it one of the most popular games of chance.
With all this input from around the world, it's little wonder then that poker is still so popular everywhere.
---