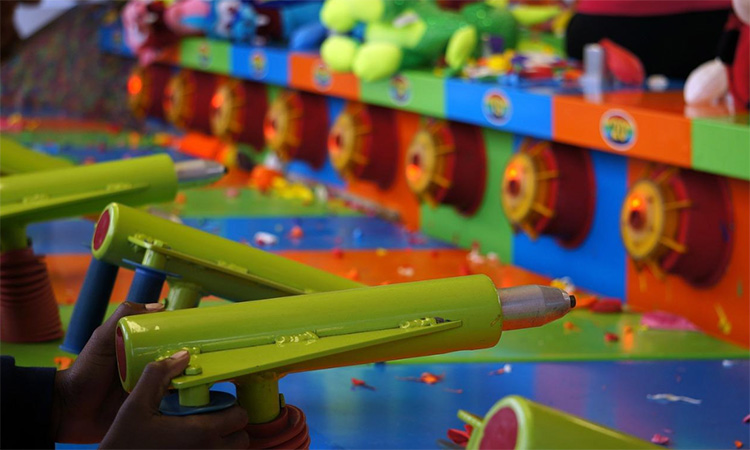 If there's one thing that has been proven time and time again, it's that trade shows and exhibitions provide an excellent opportunity for numerous businesses to showcase their products or services, connect with potential clients, and stay ahead in an increasingly competitive market. But you can't just join a trade show or exhibition and be done with it – one crucial aspect of a successful exhibition experience is designing an engaging and interactive exhibition stand! So what are some of the best ideas for your exhibition stand, one that will captivate attendees and leave a lasting impression? Let's have a look.
Interactive fairground games: a nostalgic experience for everyone
If you want to bring a touch of nostalgia to your exhibition stand and create a memorable and enjoyable experience for attendees, the first thing you can do is include fairground games. Interactive fairground games like ring toss, balloon darts, or a mini basketball shootout will not only create a buzz around your stand – they will also encourage interaction and friendly competition among participants. You can even provide enticing prizes to winners to further enhance the excitement and engagement, as suggested by fairground stall hire experts like We Are Tricycle.
Arcade games for the best modern entertainment
Arcade games have always been a crowd favourite, and incorporating them into your exhibition stand can draw a significant amount of attention. To add a retro vibe to your stand, go for classic games like Pac-Man, Space Invaders, or pinball machines. In addition, you can include modern arcade games such as racing simulators or virtual reality experiences to cater to a wider range of interests. The combination of nostalgia and cutting-edge technology will leave a lasting impression!
Interactive displays and demonstrations for engaging visuals
Interactive displays and demonstrations provide an excellent opportunity to showcase your products or services in an engaging and immersive way. For instance, you can use touch screens, augmented reality (AR), or virtual reality (VR) technology to allow attendees to explore your offerings firsthand. Interactive screens or kiosks can provide product information, demos, or even allow visitors to customise their own virtual experience. With this interactive approach, you can create a memorable and informative experience that encourages attendees to spend more time at your stand.
Staff and brand ambassadors for a personal touch
An exhibition stand is not complete without friendly and knowledgeable staff who can engage with attendees and provide relevant information about your products or services. That said, train your staff to be approachable, proactive, and well-versed in your brand's messaging. You might even want to hire brand ambassadors or influencers who align with your target audience to attract even more visitors to your stand. A personalised and human touch can make a significant difference in capturing the interest and trust of potential clients.
Joining a trade show or exhibition offers a multitude of benefits for businesses, and designing an engaging exhibition stand is essential to make a lasting impact. You can create an immersive experience that attracts visitors, increases awareness of your brand, and fosters meaningful connections with your audience. A well-designed (and well-executed!) exhibition stand is not just a physical space – it can be a gateway to showcasing your brand's unique identity and value proposition to the world.
---