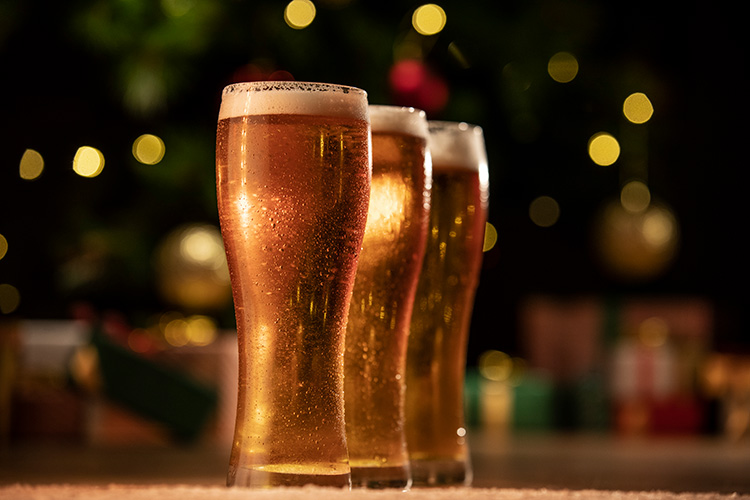 For all the talk of heavy stouts and bitter IPAs, light beer is on the rise for spring 2023.
Light beer has a low ABV (typically around 5% or less) and a lower calorie count than your standard beer. Generally speaking, it's a lighter, fresher option for those looking for an alternative option to your standard lagers and heavy beers.
However, knowing where to start with light beer can take time and effort. There are hundreds of options from both micro-breweries and big brands available. To help steer you in the right direction, we've curated this list of the ten best light beers for spring 2023.
Let's get into it!
#1 Tennent's – Tennent's Light
ABV: 3.5%
Calories: 60
Are you looking for a low-calorie classic of the nation's favourite beer? Tennent's has got you covered with their Tennent's Light beer.
Tennent's Light maintains all the same fantastic properties as their famous, crisp, golden lager – it offers a lower calorie count and ABV! If you're looking for a lighter version of something you already know and love, this beer could be just what you need this Spring.
Tennent's are famous for their Scottish brewing processes. They only use locally sourced ingredients to create a uniquely Scottish larger, and they have been doing so since the 1500s! As far as classics go, Tennent's is the perfect go-to for kicking back this Spring.
#2 Night Shift Brewery – Night Lite
ABV: 4.3%
Calories: 95
You might not have heard of Night Shift before, but this US-based brewery is becoming increasingly popular worldwide for its super-drinkable lager. With notes of citrus, bread and corn, this Massachusetts-based brewery is helping to bring a taste of American Spring to the world!
It is brewed with Pilsner malt and flaked rice, which gives it a clean and crisp flavour. The beer is then dry-hopped with Citra and Azacca hops, which give it a subtle citrusy aroma.
Night Lite is a low-calorie beer, making it a popular choice for those trying to cut down on their calorie intake this Spring. If you're looking for something different from your standard UK lagers, why not give this popular American brew a go?
#3 Guinness – Guinness Draught Stout
ABV: 4.2%
Calories: 125
You might be surprised to see this classic stout on our list, but Guinness Draught Stout is a fantastic low-ABV option for fans of the original.
Guinness Draught Stout is a classic Irish beer that the Guinness brewery has brewed since the 18th century. This dark, rich, creamy stout is made from roasted barley, hops, water, and yeast.
The beer is famous for its distinctive taste and texture, which comes from its unique nitro-brewing process. With a perfect, creamy foam head and too-smooth-to-be-true texture, this is the perfect light beer for those who can't leave their stouts in Winter!
#4 Adnams – Ghost Ship Citrus Lager
ABV: 0.5%
Calories: 115
Brewed in Suffolk, this lager has been making waves in the beer world. Ghost Ship is classed as alcohol-free, with an exceptionally low 0.5% ABV – however, it's still light enough to make this list!
Ghost Ship lager is brewed with a blend of Rye and Cara and Pale Ale malts, which gives it its distinctive flavour and aroma. It's hopped with Columbus, Citra and other American varieties, which help to give it an extra-citrusy and fruity aroma – ideal for a refreshing Spring tipple.
The beer is also conditioned on Adnams' yeast, which adds a smooth and creamy texture for easy drinking.
#5 Bellfield Brewery – Session Ale
ABV: 3.8%
Calories: 130
Bellfield Brewery is a fun addition to this list; the Scottish independent brewery is based in Edinburgh and is one of the only UK breweries to create entirely gluten-free, vegan beers for a wide range of consumers.
This light beer is filled with citrus tones, and hops deliver excellent flavour and aroma. The hoppy bitterness is balanced by a good malt character, making this beer light, refreshing and incredibly moreish.
For those who struggle with gluten intolerances or find themselves bloated after a few cans of their favourite lager, this beer is a fantastic gluten-free alternative – offering you a light, refreshing option for Spring.
Which Light Beer Will You Try?
This list of the 5 Best Light Beers To Try For Spring 2023 will help you to find some new tipples to try this Spring. Many new and exciting light beers are on the market, with plenty more scheduled for the Summer.
What are you waiting for? Head down to your local and ask for a pint of their finest light beer! With plenty of exciting options available, which one will you try first?
---