If you are planning to buy a mesh long sleeves top and wondering how to combine it. Let's learn everything about the tops in this guide.
Crop tops are a trend that exposes a large part of the abdomen. They are sexy and daring but you have to know how and with what to use them. That is why today we present you 10 styles and some tips to show them off. What is your favorite crop top?
1. Basic Crop Top:
As you will see, this basic crop top is very discreet as it only exposes the abdomen and is very careful with the chest and arms. Remember that horizontal striped patterns make you look wider so this style is ideal for girls with small busts.
2. Crop Top with Lace:
We continue with the discreet style and this crop top with lace is ideal to combine with textures such as leather or cotton. It is very moderate because it is short but does not reveal anything, you can combine it with high-waisted skirts, either midi or skater style.
3. Crop Top with Transparencies:
The crop top with transparency is a very elegant style that you can contrast with light colors at the bottom. Stagger skirts are a perfect option to wear this style. You can also use it in a formal event, to go out to the club, or for a casual style.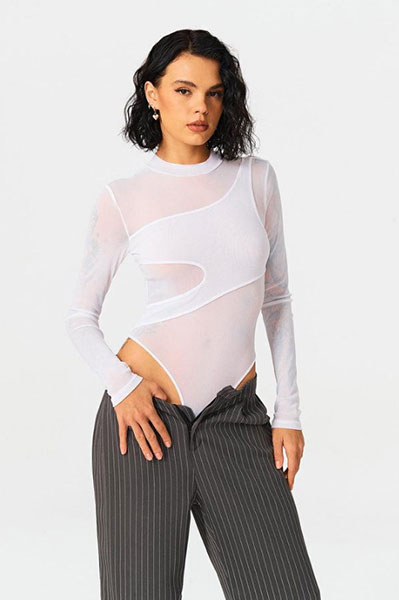 4. Printed Crop Top:
The printed crop top style is ideal to wear with skirts, shorts, and high-waisted pants. As you will see, the design exposes the abdomen and the attention is focused on the bust part, so it is recommended that this style be used by girls with the little bust.
5. Bold Crop Top:
A very daring and sexy style, the crop top that you see is a model that is recommended to be used in summer and especially to go to the beach. Combine it with a skirt with colors that contrast with it. Also, to make it a little more discreet, you can combine it with a jacket or blazer.
6. Crop Top with Pleats:
The crop top with pleats is a very flirty style and is ideal for summer. It is also comfortable and very cool. However, you have to be very careful with this style because, due to the volume that the folds give to the chest, it is recommended that this model be used by girls with the little bust.
7. Crop Top with Straps:
The style of this crop top is undoubtedly very daring, thanks to its design it makes the chest and abdomen show off. If you like this style but you see it as very daring, we recommend that you wear it with a blazer so you will only expose your belly.
8. V Neck Crop Top:
A style that suits any girl, the V-neck crop top is ideal for looking fresh and comfortable this summer. You can combine it with shorts, skirts, and jeans in dark tones to create a perfect contrast.
9. Halter Crop Top:
The halter crop top is perfect and ideal to highlight the bust and shoulders. Also, in pastel colors, it looks beautiful, especially for summer. Combine it with pants, midi skirts, or also with shorts.
Crop mesh tops are precious garments that manage to form a very flirty and feminine look. Remember that if you want to use them but in a not-so-daring way, use pieces such as cardigans, jackets, or blazers. And don't forget high-waisted shorts, skirts, and trousers.
And you, do you already have a crop top in your closet? Would you dare to wear any of these styles?
How to combine crop tops?
Leaving Black Friday aside, the street shows us one of the coolest trends of the moment that has been coming with force since last summer. The tops and blouses with puffed sleeves are increasingly presented with more volume, making the result border on the dramatic.
If you haven't fallen into temptation yet or need fresh ideas to combine with your wardrobe, street style shows us new options to hit it this season.
Shirts are cool, but sometimes they can be boring with their extreme simplicity. Bet on a full-color version with a polka dot print so that the result is unbeatable. Also, the volume sleeves will add fun to the final look.
Party and perfect for Christmas:
The Christmas season is just around the corner and finding the perfect design to accompany us during those holidays can be overwhelming. Go for a high-volume, puff-sleeve design in a bold color and the look will become a season's favorite.
Jacket style for greater versatility:
Having versatile garments is basic in a perfect wardrobe and is full of trends. Choose a version with front buttons to turn it into a top or jacket depending on the moment.
Smooth for a groundbreaking look:
Less is more and the plain color versions are perfect for wearing 24/7. Whether with jeans for a street outfit or with suit pants, this type of design is feminine and very stylish.
Dare with a print:
The printed version of the leather sleeveless top in bright colors not only accompanies us in the summer season, but they are also perfect for the coldest days. The key is to combine them with thick clothing to protect us from low temperatures.
---