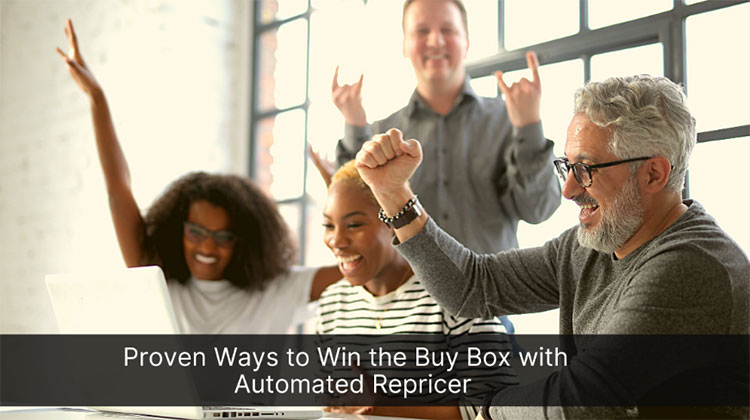 Winning the Buy Box is critical for every seller on Amazon. It is a must-have if you want to increase sales and maximize profit on Amazon. In short, simply being on Amazon will not help you expand your business. In order to generate profit and retain your position, you must win the Buy Box and feature your products to get significant sales. There are many factors that contribute towards winning the Buy Box. These usually include but are not limited to customer feedback, fulfillment method, pricing, product condition, inventory levels and so on.
Getting your hands on the Buy Box, however, is not as simple as it might appear. It takes constant effort, and even then, you can't possibly cover all the areas while focusing on other aspects of your business. Plus, struggling to keep track of your competition, and beat it, necessitates continual research, along with tedious, time-consuming, manual adjustments.So how can a business achieve competitive prices on Amazon and win the Buy Box? Three words: Automated Repricing tool. Here are a few reasons why you should invest in the best repricer to win the Buy Box for your Amazon business!
1. Keeps your product prices competitive
There are many factors Amazon takes into consideration before assigning the Buy Box to any seller. However, competitive pricing is the crucial factor in getting maximum sales, and of course, winning the Buy Box. Amazon monitors your product prices and decides whether or not you should be eligible to get the Buy Box. If you set your product prices according to the Buy Box criteria, you will have a better chance of winning it.
With the help of a smart Amazon repricing tool, sellers can have competitive product prices 24/7, even while they are dozing off! It's not about getting your product prices to the ground or a competition to undercut your rival by a cent! Effective repricing is all about having the best price in the market- to achieve maximum sales and profit.
2. It saves your time
Do you want to spend hours daily in front of your computer screen manually adjusting all your product prices? We live in a fast-moving world where automation has become necessary if you want to succeed in less time.
As we've mentioned, Amazon focuses on many factors, including your customer service, and inventory before assigning the Buy Box to you. By signing up with a repricer, you can leave your product prices in safe hands while you save more time and money to focus on other aspects of your business. At the end of the day, you will be left with the most competitive product prices, satisfied customers, and hopefully the Buy Box.
3. It keeps your profits safe
Humans are emotional. They can make impulsive decisions by lowering their prices and keeping their profit margin at stake to get the Buy Box. This won't solve the problem! A repricing tool will help you safeguard your profits.
For example, a seller who is manually repricing may continuously lower their product prices in an attempt to secure the Buy Box. However, by not having an Automated solution, they may be losing profits. If you decide to leave your pricing to a repricer, you'll only compete when it's the right time to, and under your terms. You don't have to keep bringing your prices down just to win the Buy Box. All you have to do is keep your prices competitive while earning revenue.
4. It increases your profits when the time is right
There is a general misconception that you can only win the Amazon Buy Box if you display your product prices as the lowest in the market. That results in you losing sales because buyers think the quality of your products is compromised because you keep bringing your prices down just to be Buy Box eligible.
With an intelligent repricer, you can increase your product prices and earn more while winning the Buy Box! How? Well, when your competitors run out of stock or your seller metrics are better than other sellers, you can promptly increase your profit margin while retaining the position to win the Buy Box. This strategy is mainly used during the holiday season when certain products such as toys, sweets, etc., are high in demand and people buy them, whatever the price.
Another essential factor that an Amazon repricer notices is if any of the current winners of the Buy Box run out of stock. As soon as that happens, a repricing tool increases your profit margin, and until they get their inventory, you increase your chances of having the Buy Box.
5. Freedom of Automating your prices
A repricer enables you to specify your repricing strategy and then sit back and relax while it does the work for you. After you set min/max price limits for certain products, the system will automatically prioritize and reprice those items to maximize profit and win the Amazon Buy Box.
Many sellers are still manually changing their product prices to beat an ongoing competition to get the Buy Box.  The best Amazon repricing tool will save you time, so you can set your rules and leave the rest to us.
In conclusion
Amazon considers several factors before awarding the Buy Box to sellers. However no one knows for sure how this algorithm works. But what we do know is that price is one of the factors that is vital if you wish to win the Buy Box. Try the best repricer to set competitive prices in order to maximize your sales and profit both. You can also opt for the 14-day free trial to find out if the tool works for you.
---