????BrandAlley January Sales
Apply BrandAlley January Sale promo to get 50% off most products. Start your January Sales shopping with additional savings at BrandAlley.
---
BrandAlley Discount Codes – Verified Today✓
Reveal this BrandAlley discount code and paste it at checkout to activate an extra £20 off on all orders of £80 or more. Shop with reasonably prices on top-quality designer brands at BrandAlley.
Reveal this BrandAlley discount code and paste it in your shopping bag to get £15 off on your all orders of £60 or more at BrandAlley. Activate extra savings with BrandAlley free delivery code and promo codes.
---
---
---
---
Expired BrandAlley Discount Codes – Works Occasionally!
Get an extra 10% off on any order of £50 or more when you reveal this BrandAlley promo code and apply it at checkout. Activate extra discounts on high-profile labels in fashion, beauty and home from BrandAlley.
---
How to Apply BrandAlley Discount Code?
Click the green "REVEAL CODE" button and copy the code
Double check the offer by reading all the description
Go to the BrandAlley's website which has been opened for you in another tab
Start shopping, add items to your basket and hit "VIEW BASKET" button
Paste the code in the "Your promotion codes" box, and hit "Apply code" button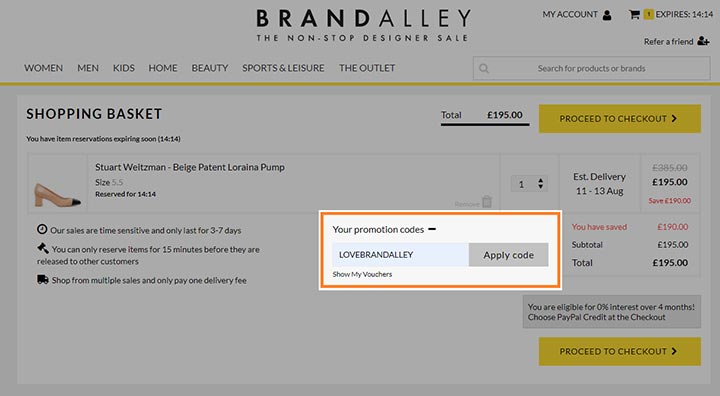 ---
---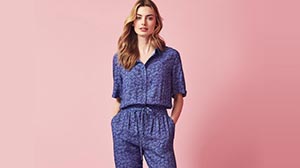 As you can see from their slogans which is "The Non-Stop Designer Sale", the products provided by BrandAlley are boutique products that come out of the creativity of designers. They offer exclusive prices on the designer brands like Gucci, Michael Kors, 7 For All Mankind, Coast and more. They also deliver an almost perfect customer experience with 4.9 out of 5, rated by 25k+ customers at one of the most popular review website, Trustpilot.
Follow BrandAlley Online
Get social with BrandAlley to be first to know about news, promotions and latest deals as well as product updates. You may even get BrandAlley discount code from their social media account.
BrandAlley Contact Information
BrandAlley Frequently Asked Questions
Where does BrandAlley ship?

At the moment, BrandAlley delivers to all of the UK and the Republic of Ireland. They can also deliver to the Channel Islands.
How long will it be before I receive my delivery?

BrandAlley is offering standard and express delivery options. UK Standard Delivery takes 3-5 days and costs £5.95. Express Delivery is delivered on next day and costs £7.50 (Order by 6:00 pm, Mon – Fri for next day delivery otherwise delivery will be the following Monday).
How can I cancel my BrandAlley order?

You can cancel your BrandAlley order while it is still "In Progress" by contacting the customer service team at [email protected] and they will make your refund within 5 working days. You will not be able to cancel your order if its status is "Order being Prepared" or "Order Dispatched" and you will need to wait for it to arrive to return it.
How can I save money when shopping at BrandAlley?

You can save money by using BrandAlley discount code and deals. Plus, don't forget to apply BrandAlley free delivery code if you have a working one to get your order shipped to your door for FREE. Lastly, prefer sale sections when shopping at BrandAlley to be able to get additionally reduced prices.
---
Related articles
Related savings – Women's Fashion
---
How was your experience on this page?
As Voucherix, we attach great importance to user experience. Please view other users' ratings or submit your review by using the form below.
5 out of 5 stars (based on 1 review)
---
Submit your review
---
"Joy means so much more when shared with you."
― Kathleen Baldwin