The world's most popular video conferencing application, Zoom, announced its new physical product. This product named as "Zoom for Home" appears as a 27 inch screen and attracts attention with its plug and play feature.
Together with the coronavirus pandemic, the biggest changes in our lives occurred in education and work. Employees had to continue their jobs because of the pandemic and students had to continue their school life from their homes. In this context, video conferencing applications became very important. Zoom, a video conferencing application, was able to stand out from its competitors and become one of the most popular applications in this field.
Zoom has become an app used by millions of people today. The Zoom team, who did not hesitate to take advantage of the opportunity they had, made a new move and announced a physical product. This product, called "Zoom for Home", is a 27-inch screen that will add a different dimension to your Zoom experience.
Also visit Zoom Blog to read: Zoom for Home is Here to Empower Remote Workers
Introducing Zoom for Home
Commenting on their new products, Zoom Rooms President Jeff Smith states that their main goal is to offer the best possible Zoom experience. Expressing that the home office culture was seriously adopted due to the pandemic process, Smith adds that everyone is aware that the home office culture is new, but that the users experience various restrictions with existing products and that these restrictions will disappear with Zoom for Home.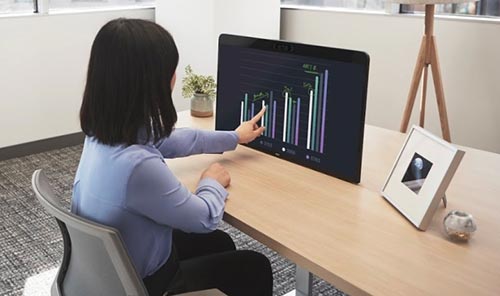 It should be clearly stated that Smith's new normal explanations are correct. Because the home office culture may become permanent for some sectors in the future. IBM, who conducted a research on this subject, concluded that 80 percent of the users who participated in the research wanted to work in a home office for a long time, and 60 percent wanted this culture to be permanent. Zoom officials do not ignore this situation and seem to have the opportunity to close the gap in the sector.
Zoom for Home, in which the Zoom team cooperates with DTEN to make it ready, offers users a sufficient field of view with its size of 27 inches. Engineers used 3 wide-angle cameras to offer this product the highest possible functionality. These cameras are placed just above the display panel. In addition, this product contains 8 microphones placed in different positions to provide the highest quality sound during the call.
All features of Zoom for Home are not limited to these. Engineers preferred a touch screen panel for the most functional use of this product. This panel provides instant notes during the call. In addition, the screen can be shared with Zoom for Home and this product can be used like a whiteboard. The plug-and-play feature has a user-adjustable management panel by a Zoom authority. All you need to do after the required setup is not to forget your meeting hours.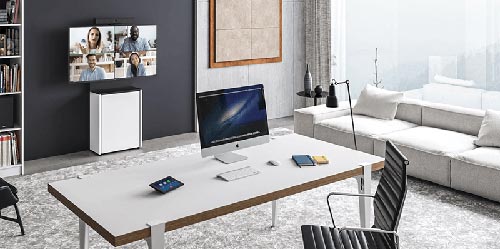 According to the explanations, when you open Zoom for Home, you encounter a simple interface. This interface allows users to review their calendars, reminders, contacts and even favorites. Also, a user can see an upcoming Zoom meeting with the Zoom for Home interface. In addition, Zoom for Home, which is lockable, prevents another person from making calls when you are away from the device.
Jeff Smith, in his comments on Zoom for Home, says that this product will not only be content with these features. The Zoom team even created a roadmap for Zoom for Home to continue to improve and gain new features. Saying that they need some time for new features, Smith says that they will work on features especially related to personalization. So, how much will this screen produced for Zoom cost and how can it be purchased?
According to the statements, Zoom for Home will be priced at $599. Although this price is at a level to compete with products such as laptop, tablet or smart screen, users who are not good with computer technologies seem to be able to choose Zoom for Home. Zoom for Home, which is currently in the scope of pre-order, will start to be shipped to consumers as of August.
---
Related Articles
"When the trust account is high, communication is easy, instant, and effective."
― Stephen R. Covey