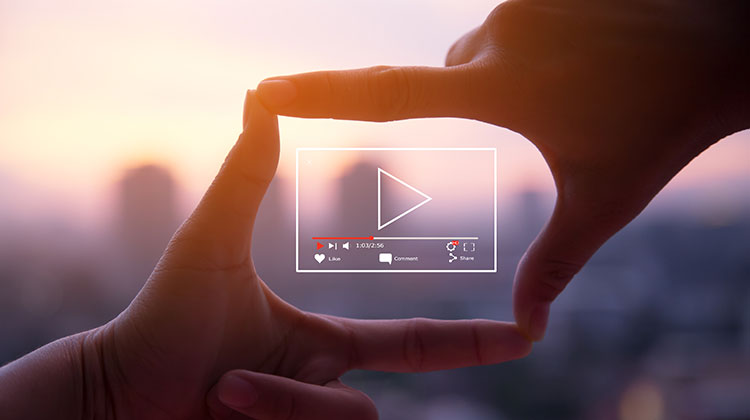 The video was and is huge in 2021! Live-streamed or not- videos take center stage when used in marketing! As per the video marketing statistics, they will be growing even bigger in 2022.
Nevertheless, one thing has not changed over the years, and that is the video creation procedure. Thanks to the online tools that keep popping up in the market, it is as easy as ever.
Even the absolute beginners in this field can use the best online tools for creating compelling and beautiful videos. Here, we will be having a look at the 5 best online tools for creating short and simple visual content:
1. Promo.com
There is no other tool as easy as oromo.com when it comes to creating short, simple, and crisp videos that hit straight when the iron is hot. This tool lets users create pro-level videos that can be used on social media sites and business websites. With Promo.com by your side, you can create videos in just a few minutes.
This online tool can also be used for creating video advertisements for Instagram, Facebook, LinkedIn, and YouTube!
The only thing you need to do is choose a video template from the plethora of templates available on the platform. Next, customize music, colors, and text the way you want. The final step involves editing the video outro with your website URL, logo, or links to social media accounts.
Complete these steps, and you are good to go!
2. Animoto
Yet another highly efficient and easy-to-use online video creator, Animoto, helps you in creating videos that are perfect for business, photography, and regular use. Even common individuals can use this tool for creating stunning videos of their family members during special occasions.
A recent addition to Animoto's splendid features is its marketing video builder that works simply great. There are several templates also available to make the video creation process easier for the users.
Animoto users can easily add media of their choice to the templates and record their voices on them. They also have complete control over how they are looking to optimize text from the videos. Users can also create split screens and video collages with photos and videos shared along with the text.
So, if you are craving to make a video but do not have confidence in your graphic design or video-making skills, Animoto is the right tool for you.
3. InVideo
Boasting an extensive library of more than 4000 templates, InVideo is the ultimate online clip maker and easy-to-use editor. Just like all the other tools in this list, the templates available on this platform can also be customized as per the requirements of the users.
You get the scope of adding voice-overs to your content or using the tool's built-in text-to-speech feature. This feature is just perfect for transforming written content into visually appealing videos. And yes, you can even create the most stunning explainer videos.
This online video clip maker also boasts of the first-of-its-kind intelligent video assistant recommending corrections on the go. The IVA checks for colors, text alignment, animation speed, and various other attributes, recommending suggestions on parameters that you might have missed.
One of the greatest benefits of this tool is it makes creating short videos affordable and quick for its users. This web-based platform works on Mac, Windows, Chrome OS, and Linux. It removes the hurdle of possessing extensive experience in making and editing videos mainly because of its super-intuitive and simple user interface.
The tutorials here will help you create videos from scratch and even let you edit effects, visuals and text while getting the flexibility of importing your own stuff as well.
4. Powtoon
If you are looking for an online tool that will help you create animated videos like a pro, then Powtoon is for you. The platform offers readymade and easily customizable templates with a drag and drop feature. This way, you can make animated presentations or videos in just a few minutes.
Powtoon helps you create engaging and fun videos for all kinds of purposes, but best for marketing. The videos thus created are perfect for promotional, social media, and email purposes.
This is one of the greatest free solutions for making animated videos and presentations you can easily embed on your business site and even share on your social media channel. There are a plethora of backgrounds, transitions, characters, and templates available for the users to make their choice.
If you want something different from the online video-making tool you are using, then Powtoon is the right choice for you. It is just an amazing platform for creating animated, pre-recorded, and short presentations in minutes.
Specifically crafted for business purposes, this tool allows users to choose exactly the pre-recorded videos they want to create: HR, marketing, reports, training, or IT.
5. Wideo
Looking to create marketing videos in the easiest way possible? Get straight to Wideo as it helps you do just this without going through any hassle. This is an easy-to-use video creator enabling users to start with one of its templates.
Users can simply drag and drop different elements they are looking to use in their videos and create some of the most stunning and visually appealing content. Wideo also helps users create animations despite having no experience in this field.
Wideo is not just an easy-to-use tool but really fun as well. The collection of templates available with this tool can be customized easily for delivering intended messages. Users even have the option of creating their own templates right from scratch.
Furthermore, Wideo users can pull their own graphics and logos into their videos to make them more attractive.
Final Thoughts
Video is important in 2021, and with more and more businesses using it for promoting themselves, chances are the video marketing realm will greatly diversify in the coming years. Videos make for engaging and exclusive content for beginners into marketing to stand out from the crowd.
---