Becoming a homeowner is an exciting and fun experience. This is especially true if you have moved into a new home or are acquiring a brand new abode. But you might have lived in your current house for a long time. If you feel that it no longer reflects your style, then you should renovate it.
Oftentimes, the smallest of homes offer the greatest of challenges to homeowners. Regardless, 40% of homeowners enjoy home renovation tasks. So yes, home renovation ideas for small houses are a great way to handle these struggles. This will also turn your home into a comfortable and customized haven.
A complete overhaul of your space might be too intimidating to contemplate at the moment. But you can focus on some smaller projects guaranteed to make a big difference in your home. If you're interested in renovations that won't hurt your savings, check out these ideas.
1. Consider Adding Storage
Clutter takes up any amount of space, and with a small home, it can be disastrous. Adding some storage to save space is a smart way of making your home look bigger.
Consider putting shelves in corners and rotating cupboards. You can also add a wall-mounted cabinet to better organize your bathroom essentials. Bathrooms are relaxing spaces. By knowing how to declutter your bathroom, you can get the relaxation you deserve after a long day of work.
2. Turn Guest Rooms Into Multi-Functional Rooms
Designing multi-purpose rooms is one of the best ways to make the most of a tiny house. You can turn your living room into a guest room by replacing your couch with a foldable sofa bed. With the addition of a fashionable desk and a comfy chair, your guest room can also become your home office. If you have limited room, consider employing fold-away furniture.
3. Install Some Modular Cabinetry
It's no news that modular cabinets are excellent for organizing space. What's more, you can customize it to meet your specific demands and objectives. You can also define the style you want depending on what you want your tiny house to look like. As a result, they are an excellent investment for small houses with limited room.
4. Turn Your Ceiling Into Glass
What better way to add more space to a bedroom or attic than turning your ceiling into glass? That's right. Your dream of gazing out into the starry night sky can also solve your problem of having a small house. It also gives natural lighting during the daytime, which helps save electricity and brings warmth into the house.
Add to that some solar tubes as cheap alternatives to lighting. They can make those dark areas look bright and lively while also saving mother Earth.
5. Pressure Wash Your Outdoor Areas
Cold weather may deposit a variety of filth and soot on the exterior of your home. Stay ahead of the nicer weather to perform a thorough cleaning of your home.
Pressure washing services can remove buildup from roads, decks, and sidewalks. If you don't have a pressure washer, you can ask for the help of a pressure washing company. These professionals can do all kinds of pressure washing like roof pressure washing and window cleaning.
What does house pressure washing have anything to do with renovation ideas on your small house?
Well, you will be surprised how much space you still have under all the dirt which have accumulated for years.
6. Increase Visual Square Footage by Cleaning Your Windows
New windows can completely transform a small and dreary space. This simple home improvement project will add natural light and enhance the appearance of your area. A clean window can make old houses look attractive not just to your guests but also to potential buyers. Beautifying your house by cleaning your windows increases its property value.
Pressure washing companies can do more than pressure washing your house. You can also avail of window cleaning to give your outdoor area a new and clean look. Exterior cleaning can also safeguard your building components from harm.
7. Put Up a Screen on Your Outdoor Area
A screened-in porch may add value in unexpected ways. Screens keep out rodents and insects. It also makes it simpler to use a room on hot days and provides a modest, but welcoming, solitude.
A few new screens can also inspire a refresh of other accents and finishes. You can try soft shades to reduce the views inside. Some light fixtures can prolong usage hours and a polished pavement surface to handle foot traffic.
8. Upgrade the Garage Door
You should never underestimate the power of curb appeal when it comes to improving a property. A modest garage renovation with a new garage door is also enough. You should paint mid-priced doors to match current color palettes. Before finalizing your garage remodeling plans, research the various garage door types.
But make sure you have a clean curb or driveway. House pressure washing companies also offer services that help clean your driveway for you.
9. Extend Your Space Outside With an Outdoor Deck
A deck is a terrific way to turn your indoor living space into an outdoor living space. It will create the illusion of greater space in your home. A deck will connect the inside and the outside of your house, producing the ideal inside-outside movement.
This is a great idea if you feel like your living room isn't big enough for a house party. Adding some furniture to the deck gives your guests more space to relax and have fun. Not only that but you can even enjoy the company of the sun outside.
10. Have Your Roof Repaired
The roof is one of the most significant components of a house. Prospective buyers will more likely buy your house if they see that you put some effort into repairing the roof. It's also a great investment since you can avoid roof problems with the right roof cleaning and upkeep.
One way of doing so is roof pressure washing at least twice a year. You can do roof cleaning on your own or have a professional do it for you. The last one is ideal if you're not sure about the right steps to cleaning your roof.
Pressure washing the roof can restore it to its original magnificence. Not only that but it also takes away dangerous elements that damage the roof components.
11. Paint Your Home
Summer is ideal for larger painting projects. If you've been intending to repaint portions of your house, such as entire rooms or the exterior, summer is the season to do it. And a little paint may go a long way in altering your space. The warm weather allows the paint to set, ensuring that it lasts longer.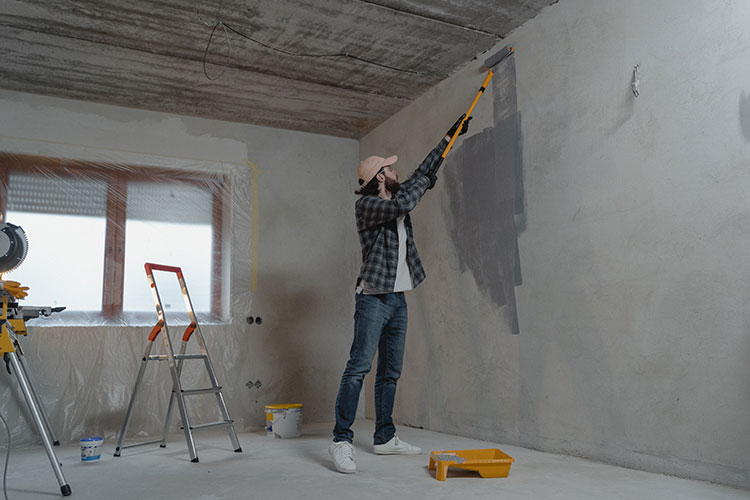 Expect to pay between $15 and $50 per gallon though. More expensive paints will generally cover the walls better and last longer. You can also paint portions of your home or the entire house white to make it appear larger and brighter.
Don't Wait, Get Started Today!
If you don't know where to begin your home renovation efforts, consider these ideas. And remember that home renovation jobs don't have to be a lot of work or a hefty expense.
Oftentimes, you can make the most lucrative changes with little effort and money. The key is to plan and make the most of your space and budget.
Your home is your castle, the place where you can be yourself and live as you please. Wanting to improve your home, especially a small one, is perfectly reasonable. But home renovation is a process. You should take it one step at a time.
If you're looking for simple and cost-effective ways to improve your home's appearance and functionality, why not consider adding glazed internal doors? With a little planning and attention to your space and budget, you can make lucrative changes that will transform your home into a comfortable and stylish haven. Start with small projects, such as pressure washing the exterior of your home, and work your way up to larger renovations over time.
By pressure washing the house, you're already making a huge difference in your small home. Before the next big storm comes through, ask for an expert's help from the pressure washing company near you. After all, nothing speaks louder than a beautiful home.
---