Sofa Styles: One of the most striking elements of your home is undoubtedly your sofas! It is very important not to ignore the things that need to be considered in sofa selection, both to create a comfortable space in your living space and to achieve the elegance you dream of.
In addition to these, there are some things to consider when choosing between sofa and armchair models. It is essential to know the characteristics of the sofa styles when choosing a sofa for the living room, living room or even the bedroom! Now let's examine the most preferred sofa styles and help you make the right choice. Continue reading below to find out the most preferred sofa styles.
13 Most Common Sofa Styles
Chesterfield sofa
These sofa set models, also known as "Chester" in short, are among the alternatives that have been meeting the furniture needs of homes in the most elegant way since the 1800s.
Chester sofa sets, which have a back section and sometimes a buttoned design, usually do not have external cushions in the back section. In addition, in this sofa model, the back and arm sections are mostly the same size. Outwardly curved arms and wooden legs are among the most prominent features of Chesterfield sofas; However, it is worth noting that the arms can be upright in some designs. Although it has been identified with leather sofa fabric in mind, this sofa model can be produced with almost any fabric. If you adopt the classic style in your living spaces, you can choose Chester sofas.
---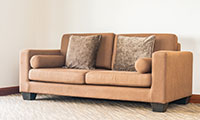 Lawson sofa
Lawson sofas, one of the most frequently encountered sofa models, draws attention with their elegance and practical cleaning.
The most well-known feature of Lawson sofas, whose backrest is slightly inclined to the back, sometimes folded out and sometimes upright and has short arms from the body, is its short legs, that is, its skeleton close to the floor … In addition, the separation of the cushions on the back from the seat frame allows the cushion covers to be washed easily. If you find an option that fits the color palette you prefer at home, you should be sure that Lawson-style sofas will match the modern home decoration style! Let's discover more sofa styles below.
---
English Rolled Arm sofa
The back and seat of the English rolled arm, also known as "Bridgewater sofa", can be cushioned or not, and this sofa model looks very similar to Lawson-style sofas at first glance. The most important difference that separates the two sofa styles is that the arms of the English rolled arm are slightly higher than the cushions. In addition, this sofa model can adapt to any decoration style in line with the fabric and color used. Please continue reading to see additional sofa styles below.
---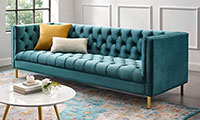 Tuxedo sofa
The back sections of the tuxedo sofas, which have a very sharp design, are flat, without a cushion or with cushions and buttons. The non-curved back and arm sections are the same size, which makes the tuxedo style sofas have a rectangular structure. In the meantime, let's not go without mentioning that tuxedo sofa styles look very stylish in modern living rooms as well as workplaces.
---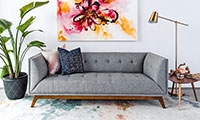 Mid-Century Modern sofa
Mid-century modern sofas also offer a design with sharp transitions. These sofas, which have models with or without a backrest, can be upright or slightly curved outwards. Mid-century modern sofas complete with wooden or metal legs are one of the best choices for modern and minimal homes.
---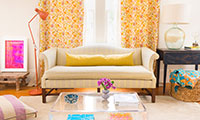 Camelback sofa
The camelback sofa, which has a nostalgic design, takes its name from the camel hump-like appearance on the back. This sofa, whose back part is usually without a cushion and whose arm parts start from where the back part ends and curves outwards, is very suitable for homes where country and classical style with wooden details are applied. One of the most elegant sofa styles.
---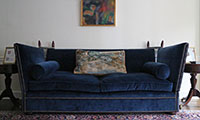 Knole sofa
The back of the knole sofas, which have a wooden-like design, can be cushioned or not. One of the most prominent features of this sofa, which has the same back and arm sections, is that the arm and body are mostly not united. The knole sofas, in which the arm parts can be designed upright or slightly curved outward, can perfectly match the classic style.
---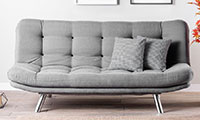 Futon sofa
The futon sofa, which is inspired by traditional Japanese beds, usually does not have a cushion, while some models do not have an arm. However, this situation may vary depending on the design; So it's possible to find a futon sofa with arms and a cushion, or even an iron frame! Futon sofas, some of which are also sofa beds, are among the most suitable alternatives for modern, especially minimalist style.
---
Sofa Bed
Sofa beds are actually one of the sofa styles we are all familiar with. These sofas, which become beds when the part hidden in the lower compartments are pulled, can adapt to all decoration styles, especially modern and country, as they can offer different design and color options.
---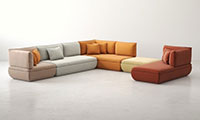 Modular sofa
Thanks to the parts that can be separated from each other, the modular sofas, which can be positioned according to the needs, can be produced in different styles. This means that modular sofas can be used in every home, no matter what style is applied, especially country and modern.
---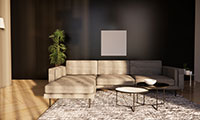 L Shape sofa
L Shape sofas, also known as "corner sofas", are a great option to save space. L-style sofas, which can be produced in different styles and with different types of fabrics, can also be modular. If you want to get more detailed information about L sofas that can adapt to any style in line with their designs, you can read one of our related articles, Corner Sets: Comfortable and Convenient Furniture.
---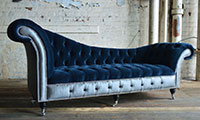 Chaise Lounge sofa
The chaise lounge, also known as the "lounge chair", takes this name from its sunbed-like design. This single sofa, which consists of one piece, can be completed with pouffes in some designs. The model of this sofa, which can be preferred in every decoration style, and the fabric used can give you an idea of ​​which style is suitable from the most popular sofa styles.
---
Wing Chair
Wing chairs known as standing and single armchairs are actually known by different names among themselves. Many design details such as whether the back part is cushioned, whether the arm part is available or not, enables the separation of the Wing chair types. Wing chairs are furniture that can be used in any style according to their designs.
---