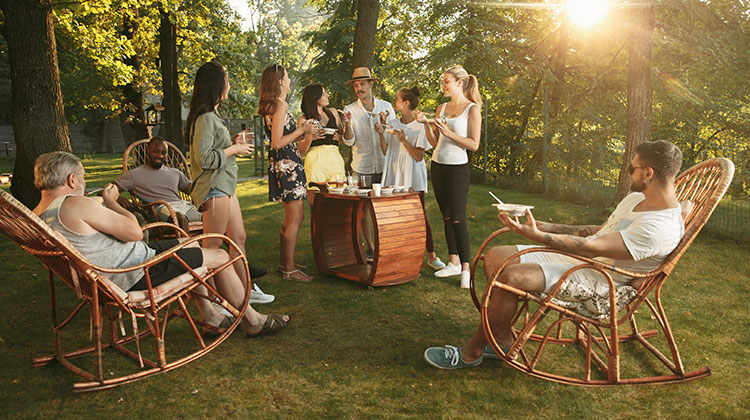 A big family barbecue. A dinner party with friends. Karaoke and garden games. This is what summer is all about!
Here we'll look at ways in which you can get your home ready for hosting as the warmer weather gets near, with ideas to suit a wide range of budgets.
Spruce up your garden
Whether you have a yard, a strip of lawn or something more grand, nothing beats getting outside and soaking up the summer sun in your outdoor space.
Budget option: Grab some plastic containers and fill them with wildflower seed packs – wait a few months and you should have pops of colour. If you can stretch a bit further, pick up a new garden furniture set for extra comfort.
Top of the range: Split your garden into dining and entertainment zones with a new decking area hosting the food and a lawn and raised beds offering somewhere to chat in relative peace.
Pick a centre point in the house
Having a focal point for your party can help to prevent people from drifting off and breaking up the feeling of togetherness – typically having food and drinks stationed here can stop people from straying too far!
Budget option: A simple folding table that you can move from inside to out as fits best. You may also be able to utilise existing items such as a dining table or sideboard.
Top of the range: If your kitchen will allow it, installing an island is the perfect way to create a gravitational sense to your hosting space.
Create flow between inside and outside
Opening up your space so that people can travel freely from inside and outside stops a feeling of being cramped and can also help if things get a bit too chilly outside – or if inside isn't providing the sunny vibes required.
Budget option: Set up chairs and a picnic blanket close to your access point, whether it's a front or back door, to keep people connected as they go from one to the other.
Top of the range: Bi-folding doors can meld the fringes of your interior and exterior to the point that there is little to discern between them.
Cater to many tastes
Refreshments, meals, music, activities – whatever it is, keeping variety high means that you can invite more people and ensure that they all have a good time!
Budget option: Keep it simple and fire up the barbecue with everyone's favourites, including a vegetarian option for those who need it – we're big fans of halloumi burgers!
Top of the range: If you're having friends over for dinner, you may be able to order in a selection of dishes from a local restaurant – giving you more time to catch up!
---