Highlighted Store: Sanctuary Bathrooms
In a world of faceless chains and anonymous companies, Sanctuary really can promise to provide the personal touch. And that's because we're a true, one-of-a-kind family-run business. We all work together to make this the home of everything that makes new bathrooms better: a wide choice of top-quality products at sensible prices.
Sanctuary Bathrooms Discount Codes: Hand-tested✓
Enter this Sanctuary Bathrooms discount code and activate an extra 5% off on your entire order. Make your bathroom an oasis of calm.
Enter this Sanctuary Bathrooms discount code and activate an extra 3% off on your entire order. Save on high quality bathroom suites.
Apply this Sanctuary Bathrooms promo to get up to 50% off sale items. Discover high-quality bathroom essentials at affordable prices.
Get Free Delivery on orders over £500 when you apply this Sanctuary Bathrooms voucher. Most cost-effective delivery option.
Different Types of Bathroom Styles: Check out our creative suggestions to make a selection that reflects your personality among bathroom models adapted to different styles.
Baths are your personal sanctuaries. At the end of a tiring day, you can reflect your style to these places where you can relax with the therapeutic effect of water and be alone. Here is our inspiration compass for a modern setup with a high dose of comfort, free choices enriched with bohemian details, a nostalgic atmosphere with vintage accessories or a naturalist style with increased green dose!
Bathroom Styles
Bohemian & Free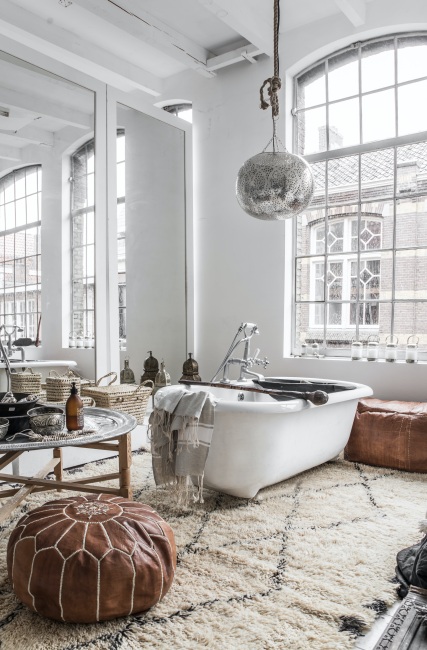 If you have a unique character who likes to exhibit together artisanal accessories and handcrafted designs from his travels, the bathroom in this photo can inspire you. A bathroom with natural daylight thanks to a large window, a mirror-covered wall that reflects this light to the space at maximum, an old-style bathtub, leather poufs with copper lanterns brought from Morocco, loincloths and Beni Ourain carpets are among the codes of this style. Discover more types of bathroom styles below.
Modern & Functional
The Geberit Citterio series, signed by the famous Italian architect and designer Antonio Citterio, will be an ideal choice for those who prefer a spacious and simple look in their bathrooms. In the series, which adds a timeless atmosphere to bathrooms with its organic form sinks, moisture-resistant wood structure and aesthetic appearance of glass, products with a smooth appearance with KeraTect special glazing technology, and smart toilets that prevent dirt accumulation with Rimfree® feature, are in perfect harmony with Geberit AquaClean. Discover more types of bathroom styles below.
Increasing sensitivity to hygiene is reflected in bathroom equipment preferences, increasing the demand for photocell products. While the use of products that require manual use is decreasing, many people want to reach products that are easy to clean, do not require contact and at the same time have visual richness. Integrating electronic discharge technology into control covers, Geberit presents the photocell control cover Sigma 80, which has many design awards, to its users.
Vintage & Nostalgic
If you are someone who does not give up the nostalgia of the past and finds himself in antique shops at every opportunity, you can catch this spirit with vintage designs in your bathroom. The leading role is a tub with trap legs, nostalgic cast radiators, gold colored faucets, a brass mirror you will place on the sink, and brass handles you will attach to the bathroom cabinets will carry the beauty of the past to your bathroom.
Natural & Naturalist
If you prefer to perform the cleansing ritual in a setup that is free of surpluses and shaped with natural materials, the decorative elements you will place in your bathroom should also keep up with the naturalist style. Plants with high humidity requirements such as marble and natural stone surfaces, wood, glass or terracotta designs, bamboo fiber towels, wicker baskets, Aloe vera, bamboo, love ladder are indispensable for this style.
---
Let's share!