How would you like to take a closer look at the coffee tables that offer comfort in living spaces, make home life more practical and of course contribute to home decoration? It is possible to achieve your dream space by recognizing the coffee table models suitable for your needs and the decoration style you apply in the living area with their names and features. Now, let's examine the most popular coffee table designs by evaluating their intended use.
12 Best Known Coffee Tables
Parsons
We wouldn't be wrong to say that Parsons coffee table is the most simple coffee table we encounter in living rooms. These coffee tables, which have four legs and whose legs are directly connected to the surface, can be square, rectangular, oval or round. Parsons coffee table models, which offer the combination of natural wood and metal, are very popular. The fact that this coffee table type, which can be produced as a middle coffee table, nesting table set or side table, is a good choice to adapt to every decoration style in line with its design.
---
Bridge
Thanks to the plates mounted on the right and left sides of the coffee table, standing ponte tables are called "bridge coffee tables" for this reason. Although we come across mostly with wooden designs, these coffee tables can also be produced from transparent plastic. The ponte coffee tables, which can be produced as middle, side or nesting tables, can be compatible with any decoration style. If you need additional storage space, you can choose the options of this coffee table type with areas such as drawers and lower shelves.
---
Stretto
The most distinctive feature of the stretto coffee tables, which are very similar to Ponte coffee tables, is the combination of their front and rear legs on the floor. In some models, these coffee tables, with all their feet on the floor, can be produced from different materials such as wood and metal and adapt to any decoration style. Stretto coffee tables, which you may encounter as middle, side or nesting tables, also have alternatives with drawers and shelves.
---
Tulip
The tulip design, which we mentioned in our article "Chair Styles: 17 Popular Chair Types You Should Know", is also available on coffee tables. The tulip coffee tables, which offer a minimal design with a surface resting on a single leg with a round base, are quite compatible with the modern style. It is possible to find tulip coffee tables, which can be produced as side tables and nesting tables, with options made of materials such as marble, wood, plastic and even glass.
---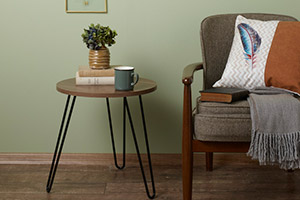 Tripod
Tripod stands, which are three-legged coffee tables and can be produced as middle, side and nesting tables, can adapt to almost every home thanks to their production with different materials and different color options. When choosing among materials such as wood, metal, glass, plastic, you can decide according to your decoration style.
---
Juwel
Juwel coffee table; It is a type of coffee table that has an oval or triangular design, all legs are united on the floor and thus one more surface can be found at the bottom. The frames of the juwel coffee tables, whose surfaces are usually glass, can be wood or metal. One of the advantages of juwel coffee tables, which are produced as a center table, is that they are compatible with every decoration style.
---
Noguchi
If you like different coffee table designs and adopt the modern style in your home, noguchi coffee tables may be for you. These coffee tables, which look like an incomplete triangle when viewed from above, have a minimal design thanks to the combination of the upper part of one foot and the lower part of the other foot. Noguchi coffee table models with a wooden skeleton and glass surface can be produced as middle and side tables.
---
Stern
The most striking details of the stern coffee tables, whose skeleton is usually wooden and the surface part is glass, is undoubtedly the legs. The four legs that come inward from the four corners and join and re-open in the middle of the body offer a traditional and at the same time modern design. Stern coffee tables with wooden legs and generally glass surface; It can be designed as a nest, middle or side table.
---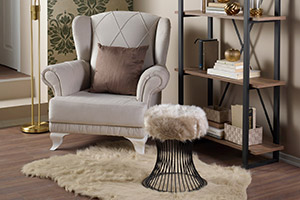 Platner
The surface of the platner coffee table, which draws attention with its body where very thin metal rods are arranged side by side and form a circular frame, is mostly glass or wood. But let's not forget that platner coffee tables on which fur-looking fabrics are placed are also very popular. These coffee tables, which can be produced as a middle or side table, are ideal for modern homes and houses where metal details are used and classic style comes to life.
---
Bemileke
Bemileke coffee tables, which originate from Africa and are produced in accordance with the original, have a wooden body, and have a rounded line. In modern design, it is possible to see the body with different materials such as wrought iron. When the body of the Bemileke tables, which are designed as side or middle tables, are designed as half, nesting tables can be obtained in the "C coffee table" model. Let's not forget that this model can be compatible with any decoration style depending on the design, color and material used.
---
Semisfera
The coffee table type, which has no legs, has a hemispherical design and is generally used as a middle coffee table, is called a semisfera coffee table. Although Semisfera tables are usually in one color, they also have designs with different shades of the same color. It can be in harmony with every decoration style.
---
Multipurpose Coffee Tables
Coffee tables that can be produced in different models such as ponte, parsons, stretto and serve different purposes are given this name. For example, a multi-purpose coffee table can also be used as a computer desk or storage space thanks to its additional features. Multipurpose coffee tables, which are generally preferred as middle tables, can be found in options compatible with every style as they can offer different models and color alternatives.
---