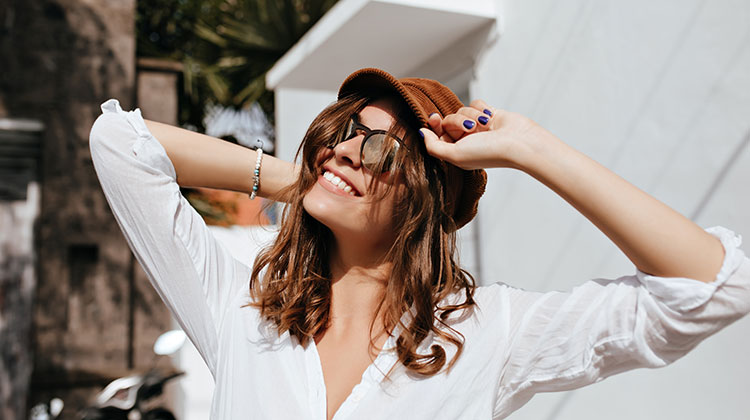 Most of us know that it's important to wear sunscreen whenever we go outside, to protect us from sunburn and skin cancer. What you may not be aware of is that it's just as important to protect your eyes from sun damage. Wearing sunglasses isn't only important to stop us from squinting or to make us look cool! They are actually doing important work protecting our eyes from long-term damage.
The UVA and UVB rays that the sun emits can cause cataracts, and even macular degeneration and corneal sunburn (otherwise referred to as snow-blindness).
Wear a hat
Wearing a hat will provide you with shade and protect your eyes, and not just the eyes themselves. Many people forget about their eyelids when applying suncream, and sunburn on your eyelids can be very painful indeed!
Be sure to wear a hat to protect your eyes, eyelids and your scalp from burning.
Wear sunscreen
This just can't be stated enough. Look for a good-quality sunscreen that blocks both UVA and UVB rays, and be sure to reapply regularly, particularly if you are going to be getting in and out of water. Don't forget to put sunscreen on places like the tops of your ears and the back of your neck. Your lips can also be damaged by the sun, so it's a good idea to find sunscreen designed to protect them, too.
Look for good-quality sunglasses
Sunglasses are your most powerful tool when you're trying to keep your eyes safe from the sun. When you are looking for sunglasses be sure to find a pair that protects against both UVA and UVB rays and that provide adequate coverage so that you aren't left squinting.
The actual shade of your sunglasses doesn't have much to do with the level of protection that they offer you – this is more about individual preference.
If you are a glasses wearer you can get prescription sunglasses that will allow you to see well, while protecting your eyes. The only problem with these is that they can be a little pricey, and you don't want to be throwing a pair of expensive prescription sunglasses around in a beach bag.
Another option for glasses wearers that is more cost-effective is to get yourself a pair of clip-on sunglasses. These can be added to your existing glasses so that you have the benefit of enhanced vision and sun protection without spending a fortune!
There is a great range of stylish clip-on sunglasses at Just-glasses.co.uk in a variety of shades and shapes.
Be careful around snow and water
Snow and water pose an extra risk to your eyes because they reflect the sunlight, making the UV rays stronger and more likely to cause damage.
Take extra care at high altitudes
UV rays actually get stronger the higher the altitude, so it's important to protect your eyes if you are going skiing, hiking or taking part in any other activity at a high altitude.
Taking these sensible precautions means you'll be able to enjoy the great outdoors safe in the knowledge that you're protecting your vision as best you can.
---
Let's share!