Post-workout diet is one of the most frequently asked questions to dietitians by individuals doing sports. Although the answer to this is individual, there are some general points that should be considered.
Why Is Post-workout Diet Important?
Sports and nutrition are inseparable. During training, muscles use glycogen, the storage form of glucose, as an energy source. This causes partial depletion of glycogen in the muscles. In addition, some proteins in the muscles are also broken down and damaged during training.
The goal of creating a post-workout diet program is to maximize the benefits of training. Eating right after exercise; It helps to replenish the reduced glycogen storage, repair worn-out muscles after training, new muscle development and gain strength. How should a post-workout diet be?
Proteins, carbohydrates and healthy fats are all important for the body's self-healing and muscle growth. Therefore, you should find the right answer to the question of what to eat after exercise and create a fitness meal program for yourself.
How much of which food should you consume?
How Much Protein Should We Consume?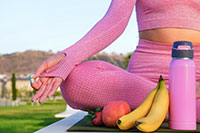 Protein consumed after training is very important for both the repair of broken muscles and the development of new muscles. Consuming 0.25-0.40 grams of protein per kg after sports helps the body to recover. This amount corresponds to a meal containing approximately 20-40 grams of protein.
Why Are Carbohydrates Necessary?
Glycogen stores that decrease after training should be renewed again. Especially in long-term endurance sports such as running, swimming and cycling, the amount of carbohydrates required to fill the glycogen stores is even more. How should a post-workout diet be?
Insulin hormone, which supports glycogen synthesis, is more stimulated when carbohydrate and protein are consumed together. Therefore, consuming carbohydrates and protein together after training maximizes glycogen synthesis. 3: 1 ratio of carbohydrate and protein is required after training. For example, 20 grams of protein should be consumed with 60 grams of carbohydrates. Especially athletes who do double training should pay attention to adequate carbohydrate intake.
Should We Do Zero-Oil?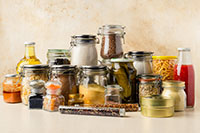 Many athletes hesitate to consume fat because consumption of fat after training will slow down digestion and absorption. Recent studies say that full-fat milk has more advantages over muscle development than low-fat milk. As a result, it is necessary to limit fat consumption and focus on protein + carbohydrate consumption after training. Nevertheless, consuming fat sources by paying attention to the portion does not negatively affect the recovery process of the body.
Post-Heavy Workout Nutrition
First Meal: Anabolic Opportunity Window
Most of us are familiar with athletes who prepare protein shakes with protein powder as soon as the workout is over. After a while, the amount of amino acids in the body decreases. Decreasing the amount of amino acids prevents protein synthesis. Researchers have called this the "anabolic window of opportunity", stating that there is a limited time required for muscle repair and new muscle synthesis after training.
Therefore, to maximize muscle protein synthesis, protein should be consumed within the first two hours after training. Still, studies on the timing of protein consumption are still contradictory. As a result of the studies, it has been decided that the total amount of protein consumption is the strongest determinant on muscle development. If the main meal cannot be consumed immediately after the workout, a nutritious snack containing carbohydrates and proteins such as banana and milk can be made to help the body recover. How should a post-workout diet be?
Sample Post-Workout Diet List of Complementary Meals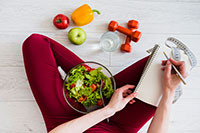 Grilled steak + grilled vegetables + bulgur rice / quinoa
Grilled chicken + bean salad
Curd cheese omelet + cereal bread
Grilled salmon, baked potato / salad
1 bowl of yogurt + 3 tablespoons of oats or granola + fruit varieties
Tuna veggie sandwich on bran bread
Oven meatballs + whole wheat pasta + yogurt or tzatziki
---