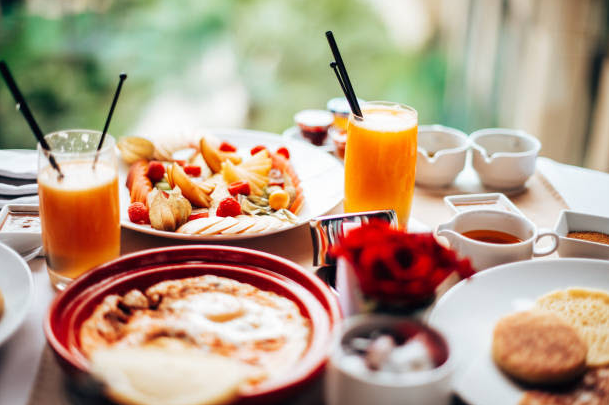 Food is the ultimate source of nutrients that our body needs. And in order for us to get the proper nourishment, we must eat our daily meals, especially the first meal of the day – breakfast. Since we're all little, I am sure we have been told that breakfast is the most important meal of the day. This is undeniably true as this meal helps us rev up our metabolism and keeps our hunger at bay all through the day. But there is more to having breakfast than just starting your day.
Most foods available in the market are easy to prepare; some are instant and don't need cooking. This is understandable as most of us are busy with our lives; juggling multiple chores and responsibilities and preparing meals, especially in the morning, can take time. But, it is essential to know that we should get a healthy and balanced meal to start our day. This should be composed of all three macronutrients such as carbohydrates, proteins, and fat to ensure that the food we eat can sustain our energy and can provide enough building blocks for our body.
Here are the main reasons why you should eat breakfast:
It gives you proper essential nutrients.
It boosts your energy by providing you with glucose so you can work efficiently.
It prevents weight gain by keeping you satiated throughout the day.
It supports brain health by helping you concentrate so you can perform better on your daily tasks.
It promotes healthy skin. Foods such as beans, lentils, eggs, fatty fish, and nuts are rich in antioxidants and vitamins that help skin health.
Supplements that you may incorporate in your breakfast:
Mushrooms such as shiitake, oyster, and lion's mane are a good addition to your breakfast. These kinds of mushrooms possess many health benefits that can help you get through your day. According to studies, including mushrooms in your breakfast can promote a feeling of fullness and less hunger, making you avoid consuming extra calories throughout the day.
Shiitake – This famous mushroom is used worldwide for cooking, typically eaten as a vegetable and is also available as a supplement. Shiitake is rich in fibre, B vitamins, minerals, terpenoids, sterols, polysaccharides, and lipids; hence it provides beneficial health effects. One of the benefits of shiitake is its positive heart health effects which can lower blood pressure and cholesterol levels. It is also found to have immune system boosting and anticancer properties due to its lentinan content.
This type of polysaccharide helps fight tumours by activating your immune system that can help fight tumours by triggering your immune system. Shiitake is typically eaten in any meal, including breakfast. You can use it as a vegetable to add to your toast, scrambled eggs, or soup. You can also find shiitake supplements such as powders mixed in your drink or food and capsules that you can take similar to your vitamins. Special precautions are advised to those who have an autoimmune disease as this mushroom can make your immune system overly active, making the symptoms of these diseases worse.
Oyster – This kind of mushroom has 40 types but are all edible. They are popular in traditional medicinal use as well as for culinary uses as it is pretty versatile and may be used in a variety of dishes such as stir-fries, soups, stews and pasta dishes. It is packed with rich nutrients such as fibre, vitamins, minerals, carbs, protein, fat, phosphorus, zinc and many more.
Oyster mushrooms are rich in antioxidant compounds, which are beneficial in the reduction of inflammatory markers and oxidation of bad cholesterol, which can cause heart disease. In addition to this, scientific research found that oyster mushrooms can also help in the regulation of blood sugar levels and reduction of haemoglobin HbA1c, which is a marker for long-term blood sugar control. While oyster mushrooms are widely consumed and generally safe, it is advisable to check with your doctor before adding oyster mushrooms to your regimen.
Lion's Mane is a well-known, medicinal mushroom that is famous in Asian culinary and medicinal practices that you can enjoy in different forms. You may take it as an over-the-counter supplement in a capsule, eat it raw or cooked, or steep it as a tea. Lion's mane has a wide variety of health benefits aside from boosting your immune system. Research suggests that it can lower your anxiety, diminish the blood sugar level in diabetic patients, inflammation and the risk of heart diseases.
Furthermore, it can speed nervous system injuries, protect the digestive tract from ulcers, and stimulate the growth of brain cells preventing the development of dementia. While Lion's mane is generally safe to consume, there have been occurrences of people having allergies to this kind of mushroom exhibiting symptoms such as difficulty breathing and skin rashes, so caution is advised.
Cannabidiol, also known as CBD, is a hemp compound that you can also incorporate into your breakfast. Not only does this supplement help with pain and inflammation, but it is also suggested to help with general wellness. Aside from these, CBD may help with sleep regulation, anxiety, seizure, cancer symptoms like nausea and vomiting, appetite and more. You can mix CBD oil with your smoothie, salad dressing or coffee or try out ready-made options like CBD gummies UK, CBD infused granola, tea and many others.
Ashwagandha (Withania somnifera) is a famous adaptogen commonly used as an Indian Medicinal Practices of Ayurveda. It is a yellow flowering plant that is also known as Indian ginseng or winter cherry. This adaptogen contains compounds that can help improve not just your physical and emotional health but overall wellness as well. According to research, ashwagandha can reduce stress levels, cholesterol and triglycerides, inflammation, and blood sugar levels.
It is also seen to improve brain health, help increase energy, and improve fertility. Ashwagandha is available in powder form, which you can mix in your drink whether in hot water, coffee, tea, juice, or in your smoothie. Alternatively, capsule forms are also available as a supplement.
---