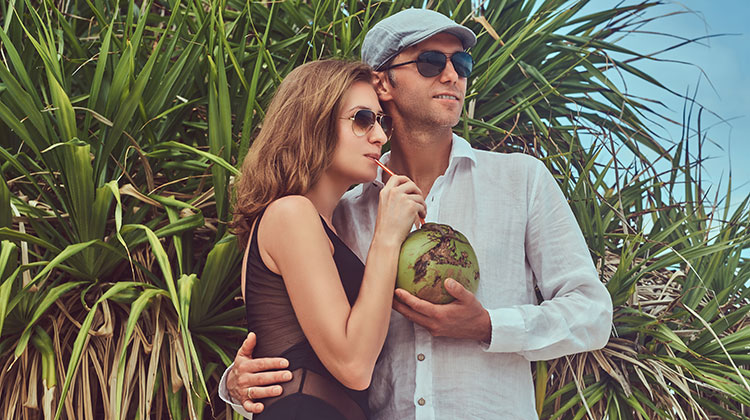 The holidays are coming. And by holidays, we mean plane rides to other countries that boast a warm climate. Holidays are hours spent on the beach and around the pool, melting the stress and daily struggles away from the sun's rays.
Going on holiday is something that many of us daydream about. Each year, millions of Brits put plans to go on holiday abroad. They choose somewhere where they can escape for a week or two. With these plans being put in place, one thing many will be thinking of is the clothes they will take. Finding the proper clothing that is comfortable and also stylish can be challenging. It is not just the clothes to wear during the day and evening that need to be chosen and packed; swimwear is also an essential clothing item for going on holiday.
If you are going for a relaxing few days or a week away, where most of your time will be spent around the pool or on a beach, you will most likely want to wear swimwear. Choosing the right swimwear can be a challenge, as you want it to be comfortable, practical, and stylish. Here are a few styling tips for men when choosing the right swimwear, not just for their holiday this year but for many more to come.
Decide on Style
Men's swimsuits come in various styles to suit different body types. The choices available can be overwhelming, especially if you are unsure about where to start.
A standard style worn by many men is trunks. They share a similar look to shorts worn daily, a reason why they are a favourited swimwear option. Swimwear trunks are made from a lighter material, often polyester or nylon, as it dries quicker than shorts worn as clothing. Whilst the length often falls just above the knee, there is the additional option of board shorts that fall just past the knee.
Another style of short that is slowly rising in popularity is the square-cut shorts. This style of shorts is more body-hugging compared to swimwear trunks. Trunks usually have a looser fit, and square-cut shorts cover the waist and upper thigh with a tighter fit.
Whenever you go away, you will most likely spot an individual wearing a style of men's swimsuits that has divided many people for decades. Swim briefs. Swim briefs, more commonly referred to as speedos, have remained a popular style of men's swimwear. Despite people's opinions around the swimwear being divided, there will likely be at least one individual wearing them on your holiday. Swim briefs have a V-shaped front that is body-hugging, baring the things.
Your style and what you feel the most comfortable in will influence which type of men's swimwear you choose.
Think About Comfort
If you spend most of your holiday wearing your swimwear to lounge around the pool, go to a boat party or go to the beach, you will want to be comfortable. The style of the shorts that you choose will affect how comfortable you are on that trip.
Ensure that you select your swimwear so that it fits you well. An obvious point is checking to see if they work well on the hips, you don't want them too tight so that they are uncomfortable, and you certainly do not want them too loose. After finding a pair that fits your hips well, the length of the shorts is what you have to decide on. The length links back to the style you choose.
Pick The Right Print
The right style, shape and fit are the essential factors to consider when selecting the right swimwear. However, the colour and the pattern that features on the swimwear should also be considered.
Going for a navy or black might be the classic colour choice for swimwear, but why not mix it up and choose one with a bold colour or print. If you are planning to attend a beach or boat party whilst away, purchase a pair of swimwear that is practical should you choose to go in the water and look appropriate for the occasion. To help make sure you're ready for the boat parties on your holiday, look at the extensive range of men's swimsuits available from Orlebar Brown.
Consider The Cost
Many of us will wear a swimsuit on holiday, or if our preferred way of exercise is swimming. Swimsuits can be on the pricier side at times. Depending on the shop or brand, the cost of men's swimsuits will vary. Well-known brands and higher-end shops will likely have a higher price tag than smaller high-street brands.
Since swimwear is an item of clothing you will likely wear again, if you spend a little more on a pair of swimwear you know you love and feel comfortable in, it can be a worthwhile investment. Affordable swimwear might have a more attractive price tag, but sometimes the quality does not last as long.
Preparing For Your Holiday
As the countdown to your holiday begins, getting some of your travel essentials sorted sooner can help minimise the stress you feel in the days leading up to your holiday. Finding a pair of swimsuits as quickly as possible means more choices will likely be available.
As it is the right season, many shops and brands will have a greater selection of men's swimsuits available for you to choose from. In the autumn/winter seasons, some brands and shops might still have a selection of men's swimsuits available. However, the choices will be limited.
One of the best ways to find the right men's swimwear for you is to try on as many options as possible. Most brands are very flexible about their return policy, so you can try pieces on at home and find a pair you feel the most comfortable and confident in.
Keep these tips in mind when you begin your search for the right swimwear for you.
---