We wrote about Coco Chanel, who changed the fashion world, and Chanel's story to become the world's most valuable luxury fashion brand.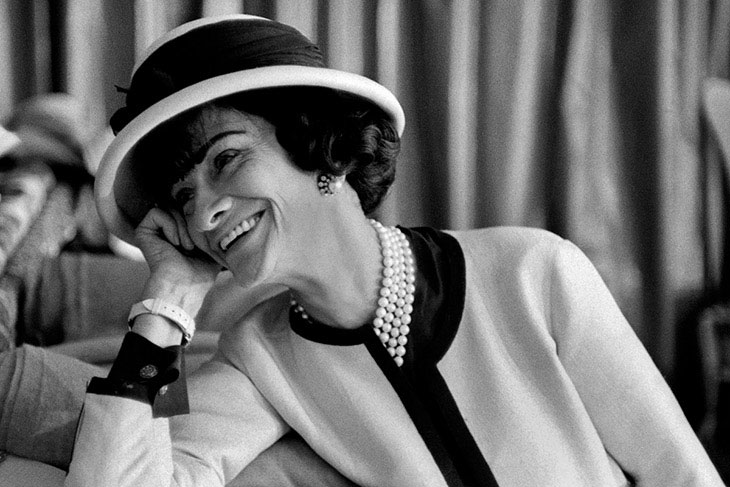 Chanel is a brand whose DNA you can smell without turning the corner. We tell the story of the fashion-accessory-jewelry-cosmetics house that started with Coco Chanel, evolved with Karl Lagerfeld and breathed a new life with Virginie Viard.
The Woman who changed the Fashion World: Coco Chanel
Gabrielle Bonheur Chanel was born on August 19, 1883, in Saumur, France, to street vendor Albert Chanel and his girlfriend Eugénie Jeanne Devolle. If everything went well, they could live in a farmhouse, but Eugéine dies of bronchitis at the age of 31 and Albert leaves Gabrielle in an orphanage when she is only 12 years old. The reason why there are so many missing and mystical elements in her story is that Madamoiselle was ashamed of her miserable childhood all her life.
If you were born without wings, don't stop them from growing.
Learning to sew during her 6 years at the Aubazine orphanage, Gabrielle finds a job as a tailor and occasionally sings at the La Rotonde cabaret. She takes her nickname 'Coco' from one of the songs she sings, Qui Qu'a Vu Coco?.
In 1905, the young and wealthy urban noble Etienne Balsan enters her life and Coco begins to use all the advantages of this new life that started in Balsan's castle. In the spring of 1908, she met Balsan's friend, polo player Arthur Edward "Boy" Capel. Arthur advises Coco to open a hat boutique and promises to support her financially; which will later be both private and business partnerships.
However, Coco remains loyal to Balsan, who helped start her career; He moves from the castle to the house in Paris where he usually takes his mistresses and starts to produce there. Coco's first clients are Balsan's mistresses, and they tell their friends about this talented woman. Things start to go so well that this single house is too small for him.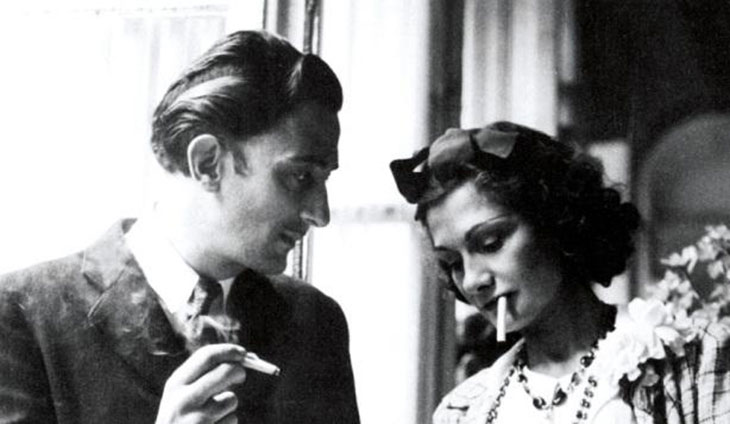 Finally, in 1910, Coco leaves Balsan and begins to live with Arthur. In the same year, he becomes a licensed hat designer and opens a boutique called Chanel Modes at 21 Rue Cambon. In a short time, the street became popular around the world and began to be named after him.
In 1913, she opens a boutique in Deauville and this woman, who designs the hats of her dreams, now wants to develop her own womenswear collection. Coco finds a solution to the danger of encountering an illegal situation because she does not have a clothing designer license; He designs the clothes with jersey fabric, which was used only for men's underwear at that time. And fashion history meets its revolutionary.
Coco, who doesn't sketch her clothes and doesn't sew them, usually throws a piece of fabric on the mannequin while she's working, cuts and pins it until the silhouette she desires emerges. The story of almost all the timeless pieces that he brought to the fashion world and women's wardrobe emerges in this period.
To be indispensable, you must always be different.
Iconic Designs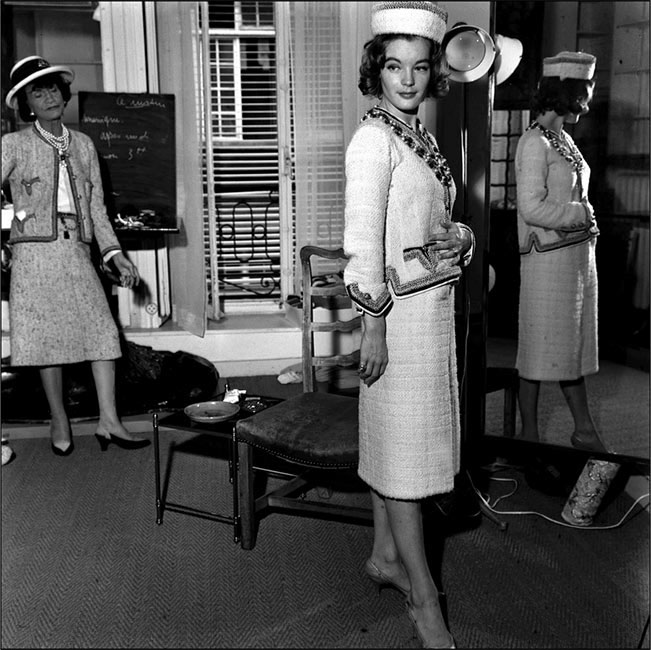 Putting aside femininity and restraint and focusing on the tailoring and comfort of menswear, Coco introduces her legendary collarless jacket and fitted skirt design. The main revolutionary model is women's trousers.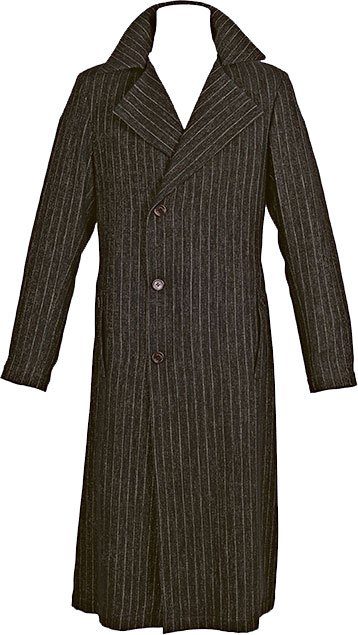 Keeping the Chanel fashion house on a simple, practical and elegant line, Coco adds her own interpretation to the redingo; it lifts the belt and embroideries, softens the lines and puts the design in an almost masculine line.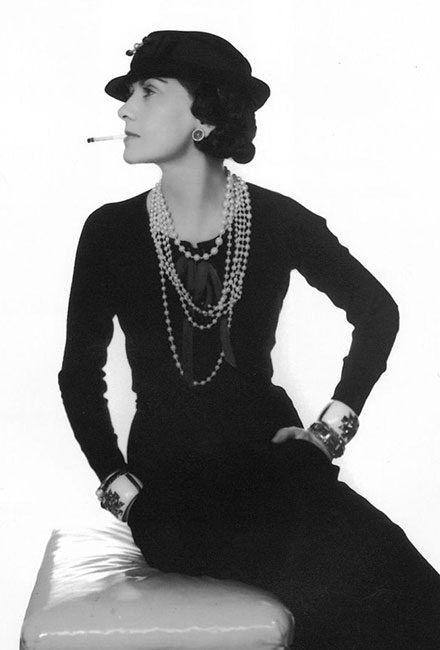 She decides to mourn her lover Arthur's death in an automobile accident in 1919 in black, and incorporates this color into his daily life gracefully, signing the little black dress.
Clothing is not the only thing Coco has gathered from men; she cuts her hair because it is easy to care for and proudly appears in front of the world with her short hair. Until then, women should have long hair, and her act breaks all the rules.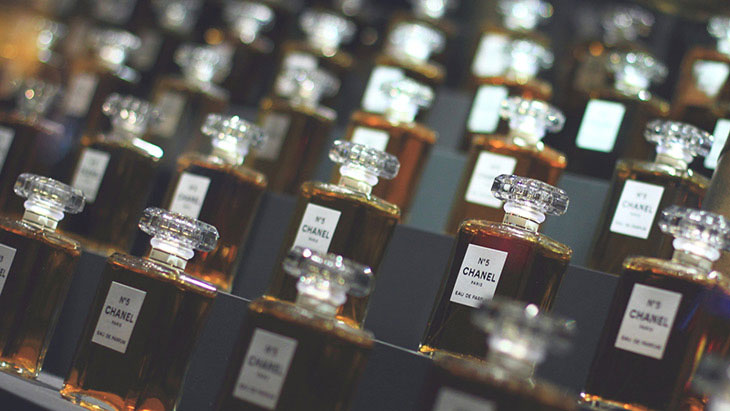 In the summer of the 1920s, Coco opens another boutique in Biarritz. Meanwhile, she meets the Russian political emigrant Duke Dmitri Pavlovich. Learning new ideas and inspiration from her exotic lover, Coco enters a long research and work process with a Russian perfumer, whom she met through Dmitri. After months of experimentation, Coco chooses the 5th among the ten examples presented to her. Being the first perfume prepared with synthetic components, not natural essences, No. 5 is still the best selling perfume in the world.
Fashion is temporary; The only thing that lasts is style.
Although he remained in Paris during World War I and continued his work, II. World War II does not treat Coco well; He was released after being detained for a few hours on the grounds that he had relations with SS-Major-General Walter Friedrich Schellenberg. Shortly after this event, he moved to Switzerland and spent almost ten years there.
Post-war France is teeming with designers popping up on almost every corner. One of them is the young fashion designer Christian Dior. Dior, who criticizes Coco Chanel's designs by saying, "With a black sweater and ten rows of pearls, she revolutionized the fashion world." Dior dresses women like flowers at the time.
After Coco Chanel returns to Paris and says, "Look at how ridiculous women look wearing the clothes of a man who has never been with a woman before, doesn't know women and dreams of being a woman." she prepares her new collection by keeping two rooms in her favorite hotel, the Ritz. Although the collection is dismissed by critics as 'presenting nothing new', the other side of the coin reflects Coco's permanence as Chanel; they are not new because they are eternal, timeless, and distinguished.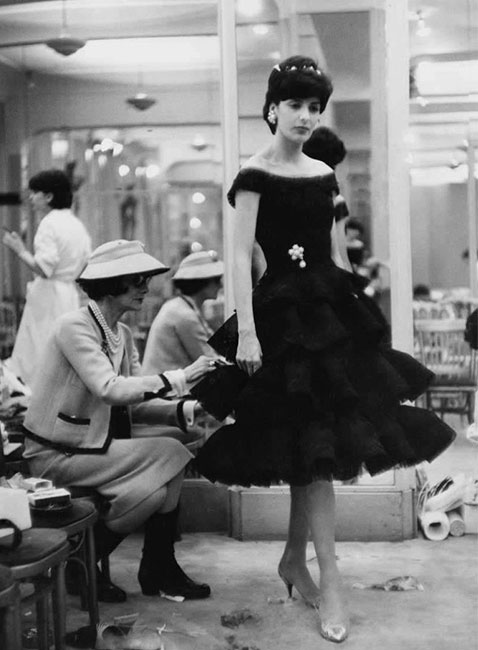 Coco turns to America to get a rematch for the collection's failure. Especially the striking wave created by the little black dress makes it a pioneer among the women here. During these years, she creates the Pink Chanel suit. This team was formed in 1963 by President J.F. It is the suit on his wife, Jacqueline Kennedy, when Kennedy was shot.
Coco Chanel, the pioneer of the trends of the most refined tastes, believes that if a jacket has buttons, it should be buttoned up, and as a designer who thinks functionally enough to design skirts with pockets so that working women can put their cigarette packs, cares about comfort and carries elegance with dignity, she was at the Ritz on her day off, not on business hours. He dies quietly in his sleep in his room.
---
Kaiser shaping Legacy: Karl Lagerfeld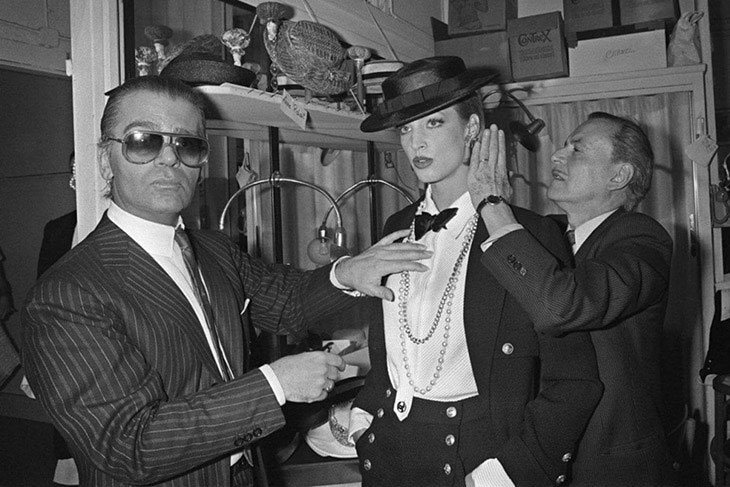 Alain Wertheimer, the co-founder of the fashion house, who went into sleep mode after Coco's death on January 10, 1971, proposed to Karl Lagerfeld in 1983 to break this silence and breathe new life into the iconic brand. It was none other than him who dressed the women of the generation born after that date in tweed suits.
Fashion is a game to be played seriously.
Although his silhouettes change dramatically from one season to the next, Lagerfeld, who has existed by designing and producing collections whose archetype is Chanel, is the name that wrote the laws of attraction for nearly half a century.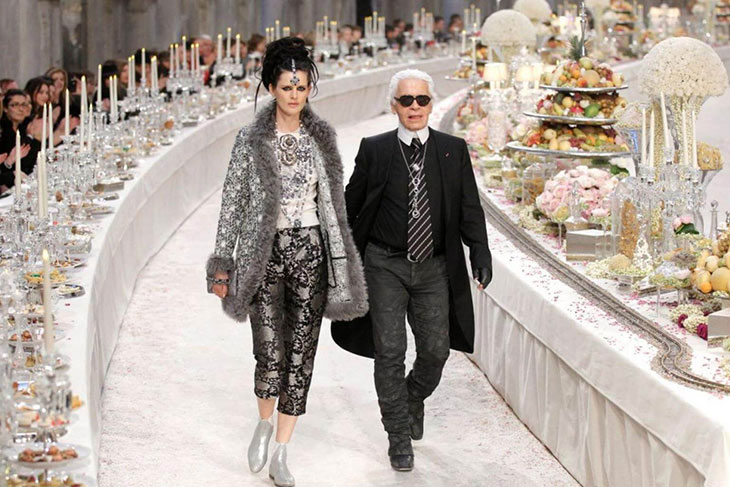 In addition to its ready-to-wear collections, it organizes regular couture and traditional Métiers d'Art fashion shows. Métiers d'Art fashion shows, which were held for the first time in 2002 as a tribute to the trademark workmanship of Chanel's ateliers, and repeated every year in December, are one of the most special concepts that Karl brought to the fashion house during his very successful fashion career.
This honoring of 26 workshops, some of which Coco also worked personally, such as Lesage (engraving), Gossens (goldwork), Lemarié (feathers) and Maison Michel (hat making) is extremely valuable for the history of the brand.
Lagerfeld, who imagines fashion shows as theaters, constructs and brings to life the themes he has determined for each collection, with all the fine details, in the Grand Palais des Champs-Elysées building. So much so that Chanel fashion shows are the most eagerly awaited and talked about shows of fashion weeks.
The New Name of Modern French Style: Virgine Viard
Virgine Viard, who has been breathing the air of the fashion house since 1987, sat in the chair of creative director, which was vacant after Karl Lagerfeld passed away on February 19, 2019. Having built a remarkable career at Chanel, first as a haute couture coordinator and later as Karl Lagerfeld's right-hand man, Viard's new creative director, CEO Alain Wertheimer, said, "Gabrielle is a name that will keep the legacy of Chanel and Karl Lagerfeld alive." announced as.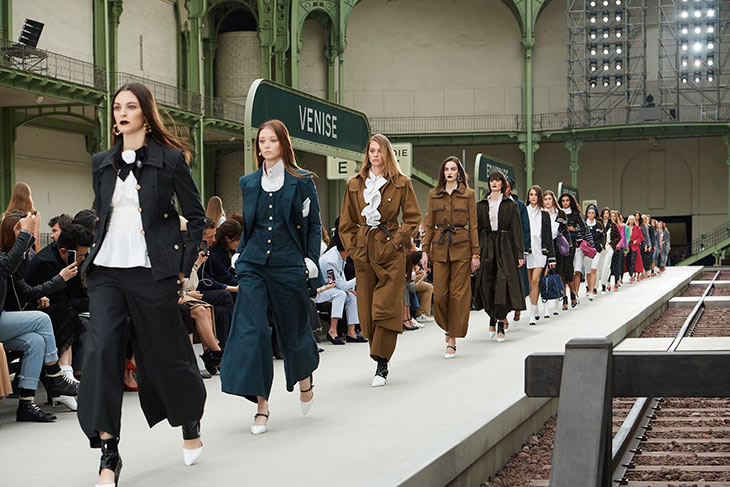 Introducing her first fashion show with the Cruise 2020 collection, Viard will be the name that will continue the legacy of the fashion house in the best way, thanks to the fact that she carries the fashion relationship that has been going on for generations in her family, her role in the ossification of Chanel's DNA codes over the years, and that she carries the effortless French style very well.
Celebrities wearing Chanel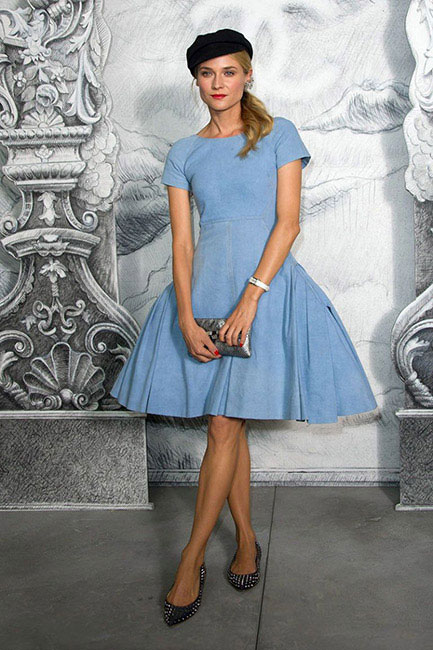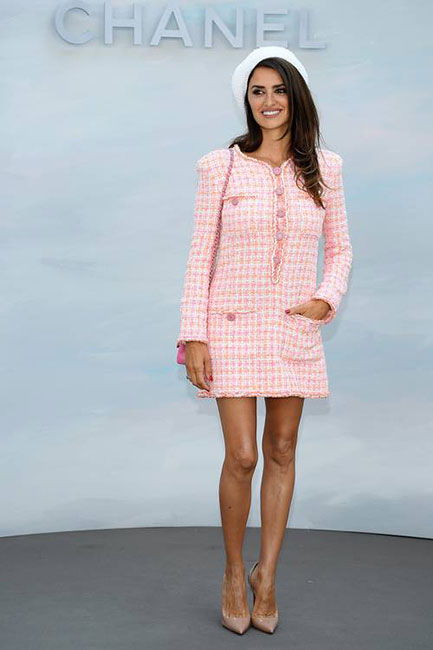 ---