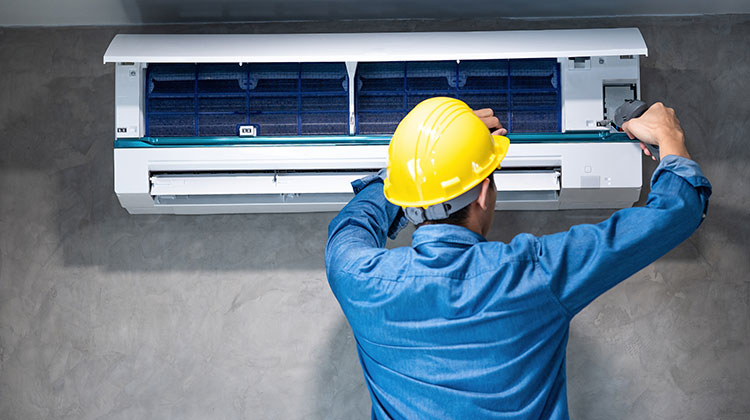 The temperature and climate inside an office can affect productivity, determine energy costs and lead to endless debates about what the ideal temperature is. Many businesses agree that having an air conditioner installed is great for creating the right environment for employees to thrive. In some cases, you may wonder whether air conditioning is worth the investment or if you should stick to other forms of regulating temperature. Here are six reasons why installing an air conditioner is worth the investment.
Lower Utility Costs
A common alternative to an air conditioning unit is fans. While fans can work for small spaces, you need many of them. This means multiplying their energy use which drives up your utility costs. With the right air conditioner, you can cool your whole office while keeping these costs low. This is especially true if you install modern models that are very efficient, meaning they provide a high cooling or heating capacity while consuming little power.
Better Energy Efficiency
The cost savings you get from installing an air conditioner depends on its efficiency, but this efficiency is tied to other benefits. By using less energy, modern air conditioning units do reduce your business's carbon footprint. Remember people are now very conscious about what businesses are doing for the environment, and this could be one area you can highlight for people to see what you are doing in this regard.
One thing to remember is that if you want the lower costs and energy efficiency benefits discussed above, your air conditioner should be installed by professionals who take into account the special requirements of your office and space. To ensure your air conditioner is installed correctly, you can get in touch with the air conditioning installation experts at Invictus Mechanical who have decades of combined air conditioning installation and maintenance experience.
Better Air Quality
The main factors that determine the quality of the air in your office are filtration and humidity. Your office can quickly become a breeding ground for pathogens if the air is not well filtered. Many air conditioning models now come with a filter that traps dust, debris and allergens as the air circulates through them. This improves the quality of the air in addition to helping reduce the circulation of pathogens in offices that have a lot of employees.
The air conditioning unit also determines the humidity in the room. If the air is too hot, it can become dry, and this can lead to dry and itchy skin. If the air is too cold, it can become too humid, and this can create a breeding ground for the pathogens mentioned above. You should choose an air conditioner of the right size to ensure the office is adequately cooled to avoid these issues.
Better Employee Health
Better air quality is directly related to employee health. The health of your employees should be a priority for your business because it will struggle if some of your employees are constantly out because of respiratory and other air-borne illnesses.
Increased Productivity
Temperature has a huge effect on productivity. If the office is too cold, people slow down and are thus more productive. If the opposite happens people become groggy leading to the same result. Also, less-than-optimal temperatures make people get out of their seats to either get warm or to find ways to cool down. A good air conditioning unit keeps the temperature at the optimal level for productivity. If you are wondering what this optimal temperature is, it is between 22 and 26 degrees Celsius.
Protecting Valuable Business Equipment
In this digital age, most offices are full of computers and other expensive equipment such as monitors, printers and servers that produce a lot of heat during operation. Electronic parts are affected by heat which can destroy them or reduce their life spans. Damaged equipment means you will have some downtime as it is repaired or replaced, and this could be bad for your business. You also have to incur unplanned expenses to get everything working again.
To ensure your computers and equipment are operating within their tolerances and allowed temperature ranges, you should install an air conditioning unit. When doing so, talk to an expert so they can factor in the excess heat when helping you decide on the best unit for your office.
Understandably, many business owners worry about the cost of installing an air conditioning unit in their offices. Doing so is a great business expense that does have many benefits for your business and employees. It will also save you a lot of money down the line, and the investment will pay for itself in time.
---