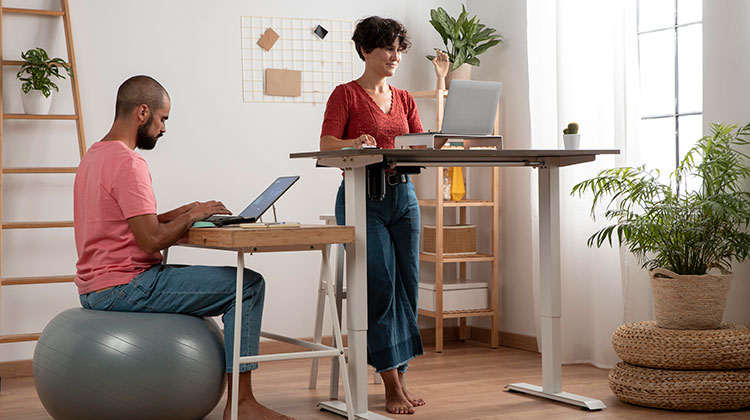 Having a full-fledged workspace at home is essential in our day and age, especially if working remotely has become your new normal. Properly arranging your workspace will not only help you avoid muscle fatigue and back pain but will also reduce the risk of developing work-related disorders, such as carpal tunnel syndrome, tendonitis, lower back injuries, or muscle strains.
As such, creating an ergonomic home office should be your top priority when it comes to working from home. Below, you will find several valuable tips you can use to set up a comfortable workspace for yourself. They range from getting an ergonomic chair, using a headset, and placing the screen at an optimal length to maintaining a good posture, keeping your desk clutter-free, and investing in a standing desk.
Continue reading and learn more about proper workspace setup!
Keep Your Desk Organised
Your desk is where you will spend most of your time during the day, so you should keep it tidy and organised. A cluttered desk can contribute to stress, fatigue, and eye strain. As such, you should make sure there is nothing on the desk that does not belong there, and place the unnecessary items on a nearby shelf, modern coffee table, or in a drawer.
You could use a small tray for your keyboard, mouse, and phone or just keep them on top of your desk if you do not mind them being visible. If you choose to go with the latter, make sure that your desk has enough space to fit your computer monitor, keyboard, mouse and any other necessary items that you need every day at work.
Get an Ergonomic Chair
Since you will probably spend a lot of time sitting in it, your chair must be comfortable. It should also help you maintain a good posture while working.
A great option would be an ergonomic task chair. Such office chairs are designed with a special emphasis on helping the user maintain a healthy position when seated. They usually have a breathable backrest and a seat cushion that is either made of leather or mesh.
Thanks to its unique design, sitting in an ergonomic chair for hours is a pleasant experience. The chair is purposely built to alleviate tension from the neck, back, and shoulders. You can also adjust its height, recline, or tilt it so that it fits perfectly to your individual needs.
Use a High-Quality Headset
If you like listening to tunes at work, you should definitely invest in a high-quality headset. A headset is usually a more comfortable option than earbuds since it can keep unwanted external sounds way better. Plus, it offers the most immersive sound quality possible.
When choosing a headset, make sure that it has a noise-cancelling microphone and specialised ear pads. An ideal option would be a headset made of memory foam, as this material can provide you with the highest comfort level.
Adjust the Screen Distance
It would be best if you positioned the screen in front of you at your eye level and at a distance that allows you to have your eyes focused on the centre of the screen. Be careful not to place your desktop monitor too low because doing so can lead to neck strain. If your desk is too low, you should consider getting a laptop stand.
Additionally, you should ensure the screen is placed at the proper distance, i.e. at least an arm's length away from your eyes. Otherwise, you run the risk of damaging your eyesight.
Maintain Proper Posture While Working
Do not forget to maintain proper posture while working — whether sitting or standing — as this will help you prevent neck, back and shoulder pain. Your head should be straight but not tilted. Furthermore, your arms should hang naturally at your sides, and your upper body should be relaxed but not slouched.
Avoid sitting with crossed legs, as this can cause calcification and pressure on your lower back. Sitting with your feet up is also a bad idea, as it can lead to varicose veins and blood clots in your legs, which can lead to gluteus medius pain (hip pain) or leg pain. Instead, keep both feet flat on the floor at hip-width apart. Lastly, if possible, try to stand up every hour or so — even if only for a few minutes. It will get your blood flowing and energise you.
Invest in a Standing Desk
If you spend a lot of time at work and do not want to risk developing joint pain, you should consider investing in a standing desk. This way, you will be able to stand while working and get a good stretch in your legs and back.
Standing at work can help improve blood circulation and reduce the risk of developing lower back problems. A standing desk might also help you burn more calories throughout the day, which can be particularly beneficial for those who want to lose weight or stay fit.
You can easily adjust a standing desk between sitting and standing positions so you can alternate between the two to give your legs a rest from time to time. You can find many ergonomic standing desks online designed for people who want to stand while working.
Do Not Forget About Lighting
Last but not least, it would be wise to ensure you have proper lighting in your home office. You should get lamps or overhead lights and place them at a height that allows you to look at the screen without straining your eyes.
It is best to use natural light for your workstation since artificial light can generate eye fatigue and headaches. Avoid fluorescent lights or those with blue or yellowish hues, as they can disturb your circadian rhythm.
Final Note
The tips mentioned above can help you set up a fantastic home office. All you need to do is make an effort to transform your current working space into a more comfortable one.
It is always a good idea to invest in a high-quality ergonomic chair and a high-quality standing desk. These two items will make your job much easier and allow you to spend hours working without getting tired. You should also adjust your working setup to your individual needs by keeping your desk well organised.
If you follow these tips and invest in a proper workspace setup, then your days at home will be much more pleasant, and you will experience less stress, fatigue, and muscle pain. Good luck!
---