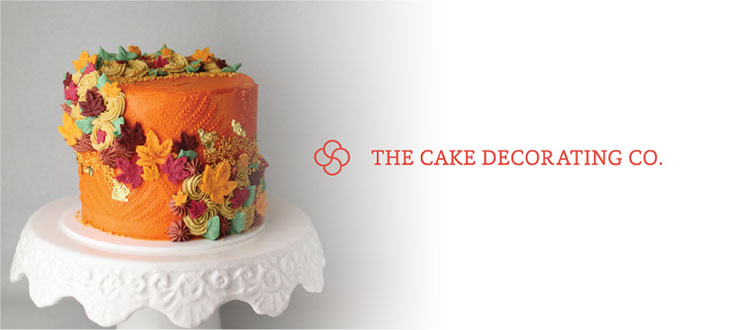 The Cake Decorating Company
If you've taken a look around any social media platform lately, you'll know that new entrepreneurial cake companies are starting up all the time, with the dream to be the next big thing. Ever since the serialised TV adventures of the, sadly now defunct, Choccywoccydoodah team, home bakers have wanted to emulate the fame and recognition that being a food-related artist can bring.
New cake brands are popping up all the time, and thousands of hopeful new bakers decide to start their own small businesses each year. Daytime TV continues to transmit images of buttercream covered treats for our eyes as bakers contend to be the best. Even Netflix is in on it. The making of cakes, big and small, has never had such a high profile.
And with this popularity comes a high demand for time-sensitive products. Customers need a reliable and varied supplier of the necessary materials. The Cake Decorating Co is here to step up to the challenge and provides a one-stop destination for all things cake based.
---
Who are The Cake Decorating Co.?
Originally founded in 2011, the Nottingham based The Cake Decorating Company provides hundreds of products, from a vast range of brands, to cover everything that a dedicated pastry chef could ever want.
The website is smooth and straightforward to use, offering access to a wide range of popular brands, such as Cake Duchess and Kitchencraft. In fact, there are over 100 brands represented on the site. There is all the usual selection of search filters that you would expect, including colour, price, brand, or department. But quite unusually, you can also select products by dietary requirements, which is a nice touch.
---
The Products
There are a large number of moulds and cutters to choose from, as well as colour dyes to style up your cake decorations. The Cake Decorating Company even offers their own brand range of chocolate moulds if you're looking for something special!
While they happily cater to smaller orders of a few items, they also excel in providing bulk items for clients that handle larger jobs. For example, you can purchase a range of Baking Brothers multi-purpose chocolate paste in a range of flavours. They even include discounts for multi-buy purchases.
The Cake Decorating Company has a wide range of edible decorations. For example, they have access to the Claire Bowman Cake Lace range of products to allow bakers the opportunity to wrap their cakes in elegance.
For professional cake makers, quite importantly, The Cake Decoration Company provides a plethora of packaging to ensure you can pack, post, or present your items in a safe and secure manner. Whether you need plain and simple get-it-there-safe packaging or decorative special event boxes, they've got you covered.
---
The Service
The Cake Decorating Co offers free standard UK delivery on all orders over £40, aiming to have all orders placed before 4 pm dispatched the same day. In addition, they also offer free next day delivery for orders over £75, if ordered before 8 pm. That is perfect for when an important job comes in that you need to begin as soon as possible.
They offer a price promise. If you can source the same nationally available items from an alternative UK supplier for a lower price, The Cake Decorating Co will match it. However, they try to beat the cost of all competitors, and it is rare that anyone needs to take them up on this promise. That's a master class in customer service!
Talking of masterpieces, have you created one? The Cake Decorating Co would love to see the end results. In fact, they enjoy seeing their customers' creations so much that they have added their favourites from Instagram and pinned them to their own site. Jealous? You can submit yours via Instagram if you want to become #cakedecfamous. Just remember to use the hashtag!
The blog contains mouth-wateringly tasty recipes and guides for a range of cake-related questions, such as how to post cupcakes without them getting destroyed in the post. With Halloween around the corner, the most recent post is some creative fun, showing how to make some spooky cupcakes!
---
Why Choose The Cake Decorating Co?
The Cake Decorating Company states that the reason they exist is to "solve your cakey problems," and as such, they strive to dispatch products the same day they are ordered. They provide excellent customer service for their clients, as shown by their impressive 4.4 out of 5 on Trustpilot. You can trust this retailer to supply you with the necessary parts to create your masterpiece.
The success of the business is rooted in the co-founder, Debbie White. Her experience and reputation for innovation and industry-related knowledge created an underpinning of trust in the company that she co-founded with her son, Daniel White.
In addition to having won the Best Retailer in the Cake Masters Awards 4 times, The Cake Decorating Co prides itself on the customer service provided by its "Angels". They can be contacted via live chat, email, and phone, to resolve any queries you may have.
Best of all, not only does The Cake Decorating Company provide a vast range of cakey products for individuals and businesses at the lowest prices possible, but its loyalty program saves regular customers even more.
Add The Cake Decoration Co to your socials and watch their regular competitions to win a range of cake-making accessories and tasty treats. You can find them on Instagram, Twitter, Facebook, Pinterest, and YouTube.
---
The Cake Decorating Co. discount codes?

Great news, right now, we have hand-tested The Cake Decorating Co. discount codes which are 100% working fine. Reveal the The Cake Decorating Co. codes and/or apply The Cake Decorating Co. offers below to activate extra savings on your order. Tasty!
---