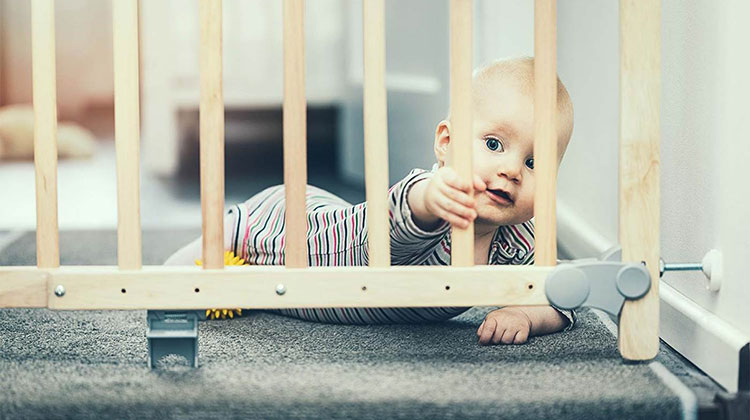 A whole new world of possibilities opens when your toddler starts crawling, cruising and walking. Imaginations are sparked and anything in view becomes a temptation to touch or follow. Little minds aren't conscious of dangers, and you'll want to do your best to minimise risk whilst encouraging them to explore. Our top 10 toddler safety tips will show you how…
Accidents are one of the biggest single killers of children; in fact, in the UK around 42,500 children under the age of 5yrs go to hospital each year with kitchen-related accidents.
Top 10 Toddler Safety Tips
All products recommended in this feature come from British brands.
1. First aid course – the Red Cross run specially designed baby and toddler first aid courses across the UK, simply go to their website and enter your postcode to find one nearest to you. You can also download the British Red Cross's Baby and Child First Aid app for on-the-go advice.
2. First aid kit – have go-to emergency kits in your baby change bag and your car so one is always at hand. Be sure to include sterile wipes, plasters, absorbent dressing pad, microporous tape, scissors, pain relief, sting relief, an instant ice pack and stickers as a reward.
3. Safety catches, locks and guards – invest in:
window locks so that inquisitive minds can see, but not climb out.
safety catches for cabinets and drawers, especially in the kitchen and bathroom.
door blocks and stoppers to prevent little hands being pinched in hinges and doors.
adhesive corner protectors to safeguard tottering tots from sharp corners.
fire and hob guards to keep hands away from heat and gas switches.
safety gates to prevent little explorers from encountering potential hazards indoors and out – like stairs, the road, and the neighbour's paddling pool.
towel rail and radiator covers to avoid burns, hob guards.
plug socket covers to prevent little fingers from shocks.
You can find a selection of these safety essentials at Fred Safety and at family run Safe Tots.
4. Cord protectors – just as you would with knives and pan handles, keep cords out of reach. If in doubt, use cord protectors for kettles, TVs, lamps and other corded electrical equipment. Find what you need at Safe Tots.
5. Thermostatic mixing valve – ask a plumber to install a thermostatic mixing valve to ensure that the water that comes out of your hot tap in never scalding. And, always remember to check the temperature of bath water with your elbow before your toddler climbs in.
6. Anti-slip mats – place on the floor of your bath/shower to prevent unnecessary falls into water. Merseyside based company, Slipsaway, has a great nautical themed anti-slip bath mat that will do the job nicely.
7. Smoke alarm – a smoke alarm on every level of your home doubles your chances of getting your family out if a fire starts. Remember to check them once a week. You can buy smoke alarms from British brand, Fire Angel.
8. Carbon monoxide detector – CO is invisible. If your house uses gas, use a carbon monoxide detector to detect any leaks. Fire Angel sells detectors at affordable prices and if you install its app, you can get instant alerts to your phone, too.
9. Toddler reins – if you've got an adventure-seeker on your hands baby walking reins are invaluable, giving them the freedom to explore whilst keeping them close. ONK toddler reins [https://www.onk-uk.com] come in a range of fun designs – including leopard print – and are the only baby rein brand to make theirs in the UK. You can even match your reins with phone straps and bag straps from its sister brand, ONK Wear.
10. Safety bracelet – laser engraved with your contact details on them, pop them on your toddler's wrist so if they do wander off, your contact details are there to enable whoever finds them to swiftly reunite you. Dorset-based brand Ice ID has a great selection of safety bracelets at https://iceid.co.uk/kids-id/
Staying somewhere overnight? Always pack your safety essentials with you. Please note, safety equipment doesn't replace the need for supervising your child, but it can make it easier.
This feature was submitted by Kate Lovell, a single mum with a very curious toddler, and founder of ONK baby reins.
---